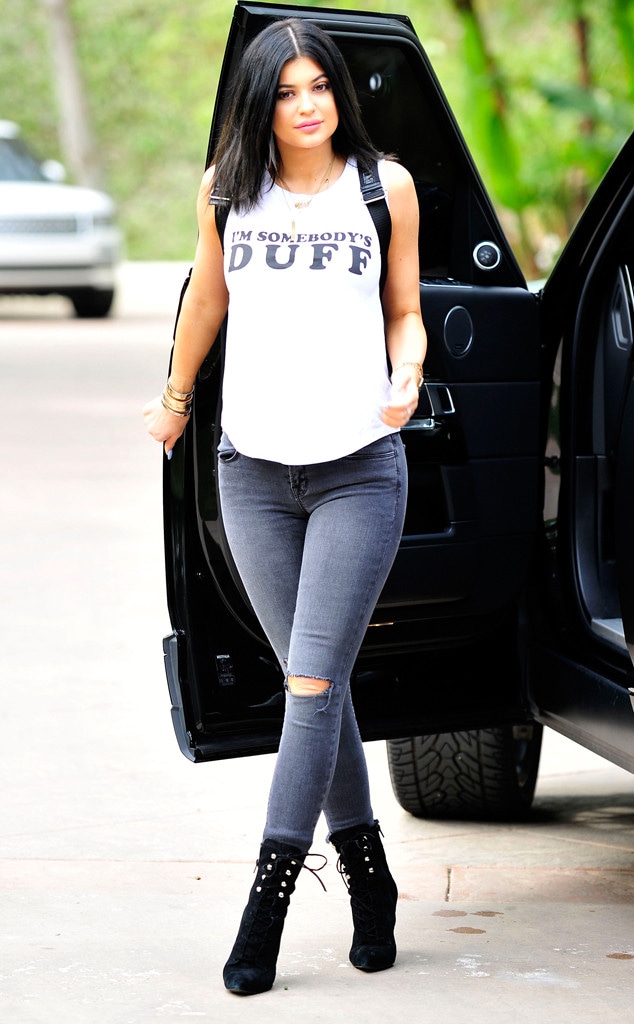 Michael Simon/startraksphoto.com
Safe to say Kylie Jenner has been making some interesting fashion choices as of late. 
The 17-year-old E! star stepped out in Malibu, Calif. on Monday where she was photographed sporting a white tank top which read, "I'm somebody's DUFF." 
And in case you aren't up to speed with what the kids are saying these days, let us clarify: DUFF stands for "designated ugly fat friend."
While the style statement was certainly surprising, there's another possible explanation for Jenner's tank as the acronym is also the name of an upcoming high school comedy starring Bella Thorne, Mae Whitman and Allison Janney (presumably, there's some cross promotion going on here). 
In signature Kylie fashion, the teen star teamed her eyebrow-raising tee with a pair of skin-tight jeans and sky-high lace-up black booties. She was also sporting a full face of makeup (with her perfect pout fully in tact!) just one day after posting a fresh-faced selfie. 
Jenner recently opened up to the February issue of Cosmopolitan about growing up in her famous family, admitting the endless spotlight has been tough to deal with, particularly when she was younger. 
"When I was like 10, 11, 12, I had a really hard time with the media," the brunette stunner, who is no stranger to tabloid rumors, admitted of her upbringing. "During your adolescence, girls deal with their peers at school, then they go home and they don't have to deal with it [there]. It was a lot more haters to deal with...especially since I was younger and my sisters were so beautiful and had it all together."
She added: "I can have my moments and say that I don't want this life anymore, but I wouldn't trade it for the world. The good is definitely worth the bad."