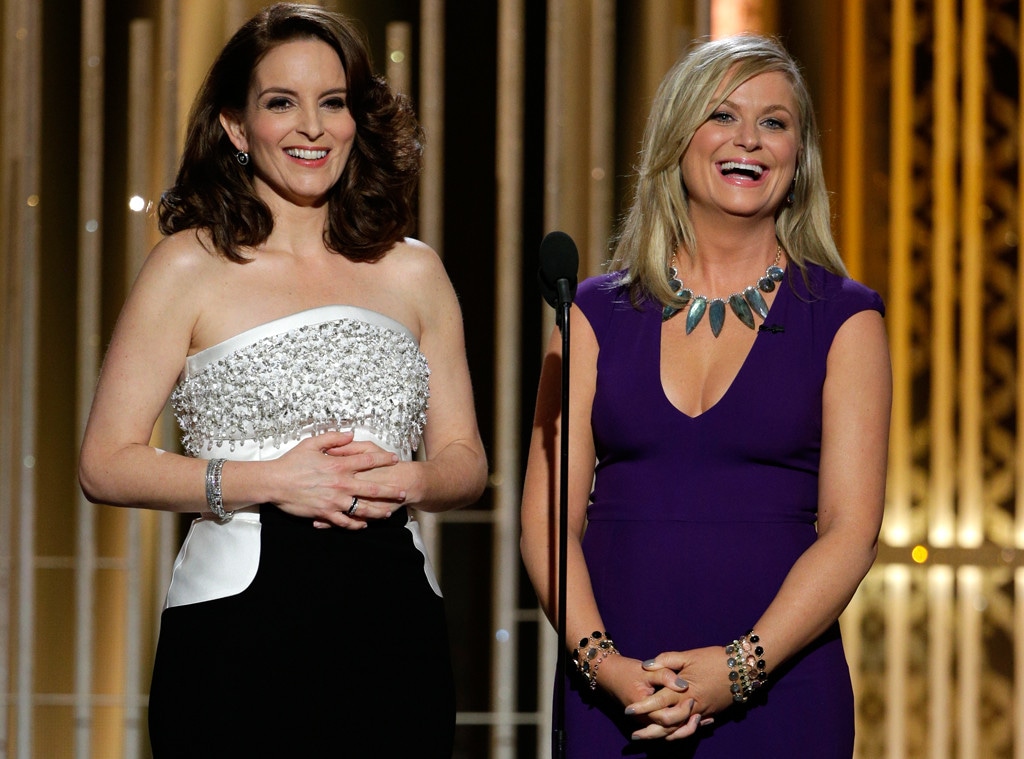 Paul Drinkwater/NBC
Here we are again, the morning after the first major awards show of the year.
The 72nd Annual Golden Globes came and went—and the first big surprise may have been how quickly that occurred. With the final few presenters and winners talking at rapid-fire pace in a race against the clock (Julianne Moore, we know you said something amazing, but you talked so fast!), Tina Fey and Amy Poehler closed this bad boy at just a couple of minutes over its slotted three-hour running time.
Memo to Neil Patrick Harris, who's pulling Oscars duty this year...
Anyway, while Tina and Amy stole the show out from under their fellow stars for the third straight year, the Hollywood Foreign Press Association is never without a few tricks up its collective sleeve. And when the going gets slow, the George Clooney gets all emotional. So without further adieu, here were five times that our collective jaw hit the floor:
1. Netflix Is So 2014: Well, the streaming service is still of this year, Kevin Spacey having scored the Best Performance by an Actor in a TV Series, Drama, win for chewing all the scenery in his wake on Netflix's House of Cards. But while neither House of Cards nor Orange Is the New Black has ever reached the best series winner's circle at the Golden Globes or the Emmys, the HFPA went and named Amazon's Transparent Outstanding TV Series, Comedy. Better yet, they gave the long-deserving and underappreciated (kinda like Bryan Cranston pre-Breaking Bad) Jeffrey Tambor the win for Best Performance by an Actor, Comedy or Musical, for his funny, touching and fearless portrayal of a family man who at 70 is finally living as the woman she has always felt herself to be. Transparent is the first, and presumably not the last, Internet-based series to soar so high.
2. Boyhood Becomes a Man: Having regained its momentum by scooping up a host of critics' awards before last night, Richard Linklater's Boyhood is now the Oscar frontrunner, having been named Best Motion Picture, Drama. Linklater notched his first Best Director win and Patricia Arquette joined the party with a Globe for Best Performance by an Actress in a Supporting Role. Yes, the Oscar nominations deadline has passed, so this doesn't technically affect that, but the big win for Linklater's passion project is further proof that this got-to-see-it-to-really-get-it bildungsroman stuck with everyone who watched it. (Or at least with those in charge of this sort of thing.) The Grand Budapest Hotel also upset Birdman (which is magnificent) and Into the Woods (a true-blue musical) for Best Motion Picture, Musical or Comedy, a sure sign Wes Anderon's latest will have the chance to lose to Boyhood for the Best Picture Oscar.
3. Tina and Amy Go There: It's not that we were shocked to hear the co-hosts make a Bill Cosby joke. Perhaps we were just surprised at how shocked Jessica Chastain looked.
4. No Longer an Awards Show Virgin: Call it a...miracle? While the HFPA is rather known for honoring shows in their fledgling freshman years, they really went for the underdog by awarding Jane the Virgin star Gina Rodriguez the Globe for Best Performance by an Actress in a TV Series, Comedy or Musical, a huge feather in the CW's cap. The utterly charming 30-year-old star was brought to tears by her win, which came against the likes of Julia Louis-Dreyfus (the HFPA just doesn't get the Emmy-laden Veep) and Lena Dunham.
5. George Clooney Wears His Heart on His Sleeve: The actor-filmmaker was already well on his way to starring in the classiest segment of the night, his Cecil B. DeMille Award acceptance speech the perfect mix of humor, humility, self-deprecation and appreciation. But then he started talking about his wife, Amal Clooney, and the sounds you heard weren't champagne corks popping. Those were hearts exploding.