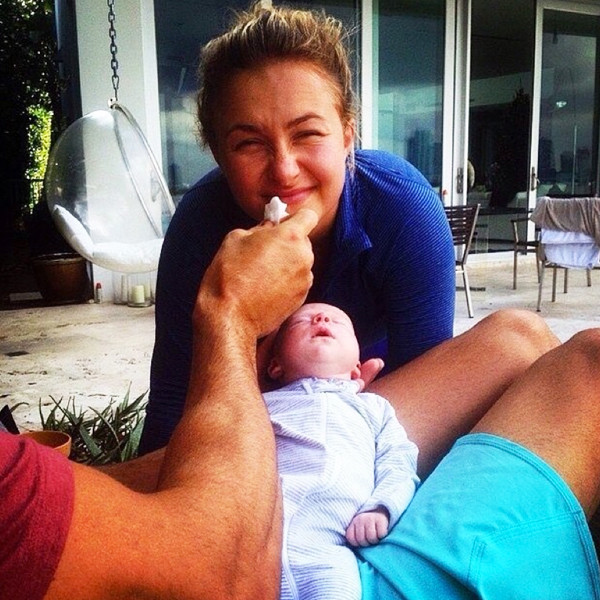 Instagram
Hayden Panettiere's new family looks nothing short of perfection!
As the Nashville star and fiancé Wladimir Klitschko savor the first few months of parenthood, the happy couple gave fans the sweetest surprise when they showed off baby Kaya Evdokia on Instagram for the very first time.
"#family #klitschko #NewYear," the heavyweight professional boxer captioned the photo while letting his newborn rest between his legs. He also did a little multi-tasking by feeding his other special lady a little snack. What a guy!
Although the twosome welcomed their first child together less than a month ago, they can't believe all the joy Kaya brings to their life.
"She's really so sweet," Panettiere recently gushed to People. "I'm sure that's the way it's meant to be, because when they are putting you through the ringer, you're like, 'You are so lucky you're cute!'"
She added, "You're suddenly looking at this little thing like, 'Oh, that was you in my belly this whole time.' [We're] just getting to know her."
While the ups and downs of parenthood are just beginning, one thing is clear: Panettiere and Klitschko are a united twosome who are it for the long haul.
"He's such a resilient guy. He's so calm and patient," the Heroes alumna recently told Hello! about her fiancé. "I have never even heard this man raise a voice."
Perhaps it's because he's such a sensitive guy, even if we would never want to face him in the ring.
"You don't know what love is until you have your first baby, then you know what love is," he recently shared with E! News before welcoming his first newborn. "So I think I know what love is, but I look forward to getting more knowledgeable about that."