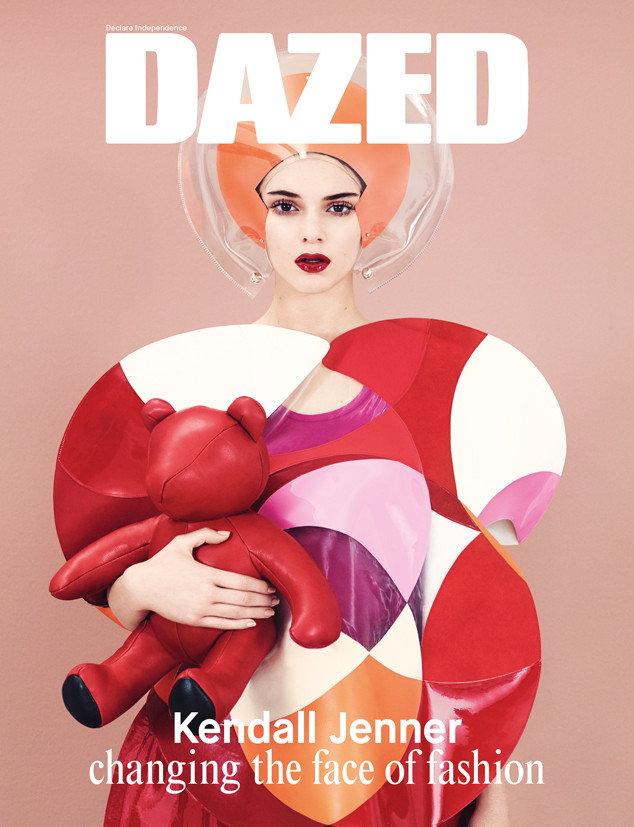 Styled by Ben Toms and Robbie Spencer for Dazed Magazine Winter14
Big sis Kim Kardashian may have tried to break the Internet, but Kendall Jenner is well on her way to breaking the mold in the world of high fashion.
The reality star, 19, covers not one, but three separate covers for the winter issue of Dazed (to be fair, the third cover is a cool graphic collage of the first two by artist and Instagram collagist Doug Abraham).
Each edition pronounces Kendall as "Changing the Face of High Fashion"—a fitting description for a gal who has walked the runways of major fashion houses (Chanel, Marc Jacobs, Givenchy and Balmain, to name a few) in her inaugural year in the industry.
The first cover features Kendall clutching a red leather teddy bear in an ultra-colorful get-up by Junya Watanabe. On the black-and-white edition she wears a belted Marc Jacobs trench. In the mag's main feature, meanwhile, she models 12 different looks, and is featured as number one in Dazed's rundown of 100 creatives worth watching.