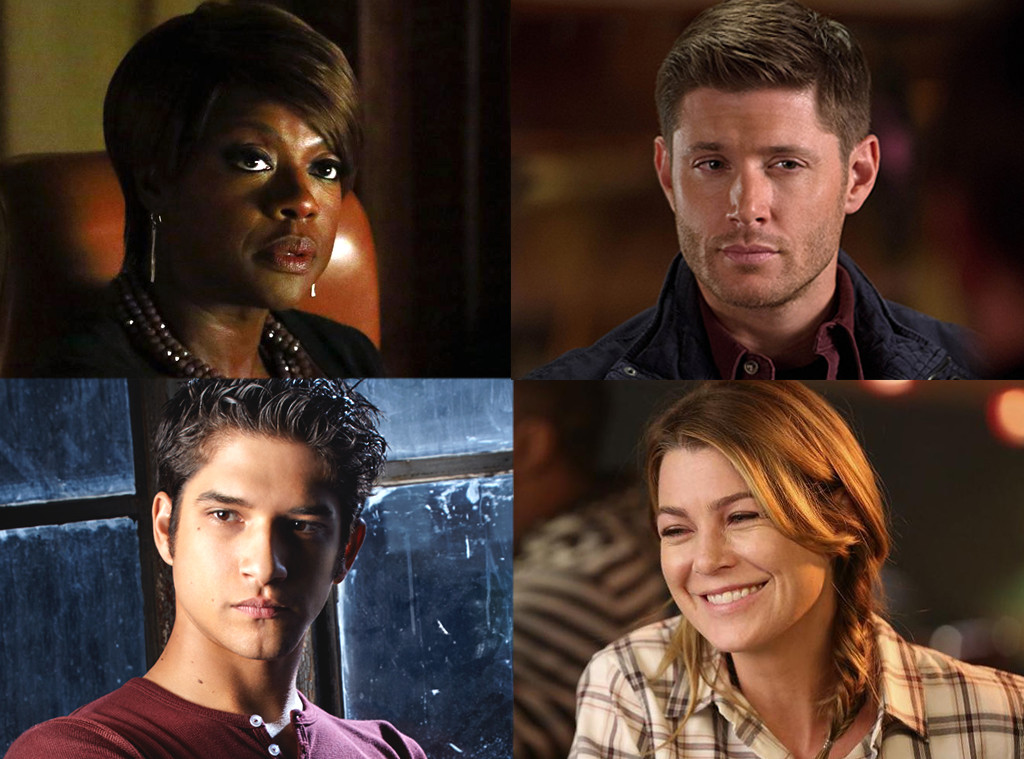 CW/ABC/MTV
Looking for a light snack to hold you over until your Thanksgiving binge-fest on Thursday?
We've got the perfect appetizer for you: a whole bunch of TV scoop!
What better way to kick off your Tuesday than with spoilers on New Girl's annual Turkey Day-themed episode? Or maybe a serving of How to Get Away With Murder scoop, perfect to share with your equally-as-obsessed family members? (Still. Not. Over. That. Fall. Finale.) We've also got helpings of inside info on Supernatural, Grey's Anatomy, Teen Wolf and more. So what are you waiting for? Put on your stretchy pants (we won't judge!) and dig in...
Rebecca: I LOVE Ryan on New Girl! I am still holding out hope for Nick and Jess though! Is there any hope?
OK, let us just state that Ryan and Jess are kind of perfect together, which tonight's Thanksgiving episode proves. BUT Nick and Jess do share a fantastic scene that shows they are just as close as ever. Oh, and Nick may or may not see Jess naked. 
Leah: I can't wait until January for more Grey's Anatomy! Got scoop to time me over until then?
You're not the only one who thinks the winter hiatus is too long. "I'm a fan of the show too so I'm just so excited to see it return!" Caterina Scorsone, who plays our new favorite neurosurgeon Amelia Shepherd, told us. "I can't wait to see how all the particular stories unfold. But I am—well, I don't want to say excited, because that's not the right word—I'm drawn into Kepner and Avery's baby story in part because it resonates so deeply in Amelia's backstory. She had a really difficult journey with her baby. It will be incredibly interesting to see how their story plays out."
Tom: Hit me with some How to Get Away With Murder scoop!
Now that the Keating five are "bonded by blood," the last thing they want to do is get grilled by the police. But unfortunately, that's what they'll find themselves doing just a mere few hours after getting rid of Sam's body. "They'll definitely feel pressure and feel paranoid and scared," executive producer Pete Nowalk told us. "They're not criminals by nature. This is new for them and the fun will be to watch how they all handle it, in a very scary and different way than you'd expect. That tension is going to permeate through the entire rest of the season."
Alyssa: I'll take any scoop you've got on Downton Abbey!
Times, they are a-changin'! "Downton is in probably the biggest period of change ever—the new kind of world and the ways of the world are very much going to be entrenched in Downton and it's about how it feels with that," star Allan Leech told us. "You know for the younger generation it's much easier, but for the older generations and the staff and the servants it's a very different world…So it's about people trying to find their feet, how to maneuver and how to navigate this crazy new world…And you see a lot more of the London life…there are so many unanswered questions that get answered this year."
Chris: Anything on Supernatural?
Our favorite sheriff is coming back! That's right, prepare yourself for another dose of Sheriff Jody Mills. "I get to work with another woman this time!" Kim Rhodes told us. "I'm teamed up with Sheriff Donna and the two girl sheriffs are solving the case. Well, they may not solve the case but they show up! They follow the boys and mayhem ensues. It's a lot lighter than any of the episodes I've gotten to do before. It's Supernatural meets Fargo."
In desperate need of Teen Wolf spoilers over here!
Tyler Posey, take it away: "It's going to be badass. Like, it's another thing we haven't done before," he teased of the upcoming season, which has yet to begin filming. "I'm really excited. It's cool because I know nothing about the season, I only know one part of it. But it's so badass that I would watch the entire season just for this one part." Ya killing us, Posey!
Mona: Please please please tell me…is Leo alive on Chasing Life?!?
For those fans who have been on pins and needles waiting to find out just what the midseason finale cliffhanger was—Did Leo get the life-saving/risky brain surgery? Did he die before he could make the choice? What did that mysterious voicemail say?!?—that loose thread will be answered in the first 30 seconds of the special Christmas episode airing Dec. 9. And that answer will make the next hour incredibly emotional and deeply important for both April and Leo.
Meg: The Mindy Project. Scoop. Now. 
The love triangle between Jeremy, Peter and Lauren? So. Not. Over. Expect a major shift. But raise your hand if you are missin' the bromance between Peter and Jeremy! (Both of our hands are raised.)
Julius in Las Vegas: You know I live for your Affair spoilers!!
Summer has to end sometime, right? You will soon see how the couples are faring long after the leaves change colors, and it won't just be the temperature leaving Allie and Noah cold. Noah will find himself bonding with an unexpected person during a surprise trip back to Montauk, and viewers will get two more big pieces of the current day investigation puzzle.
Lisa: Jane the Virgin scoop please?
Now that Jane and Rafael are officially dating (and how romantic was their first all-nighter together?!), they're going to live happily ever after, right? Wrong! "I'm surprised at how quickly they put Jane and Rafael together!" Justin Baldoni told us. "I was a little worried about it, but it's okay. They're going to have to break them up at some point and bring Michael back into play but I think it's a really solid preview of what Jane and Rafael's relationship would look like."
Lucy: I adore Red Band Society so much. What's coming up?
So. Much. Romance. Drama.  Look for major complications in Leo and Emma's relationship, mostly due to her eating disorder, as well as a major step in Kara and Hunter's burgeoning romance. But the biggest relationship shift happens between Dr. McAndrew and…either Erin or Brittany. Or could it be both? Let's just say one of them gives him the black eye he's sporting by episode's end.
Thomas: The wait for a new episode of The Blacklist may just be the death of me. Give me something to look forward to please!
Prepare for flashbacks! Of a young Liz! In episode 10! 
Melissa: What's the deal with Theo on Faking It?
We're more than a little peeved at Theo standing up Lauren after she bared her heart and soul to him and told him that she was intersex. We were so rooting for this couple! But in the midseason finale (airing tonight!) we'll find out that Theo is keeping a secret of his own, and it's a biggie. In fact, his secret ends up landing Karma, her parents and Amy in jail!
Spoiler Chat is new every Tuesday on E! Online. BOOKMARK THIS PAGE so you can always find it!
Be sure to send in questions via Twitter or Facebook. WE NEED YOU!
TWITTER: Follow @kristindsantos!

—Additional reporting by Tierney Bricker, Sydney Bucksbaum and Alyssa Toomey