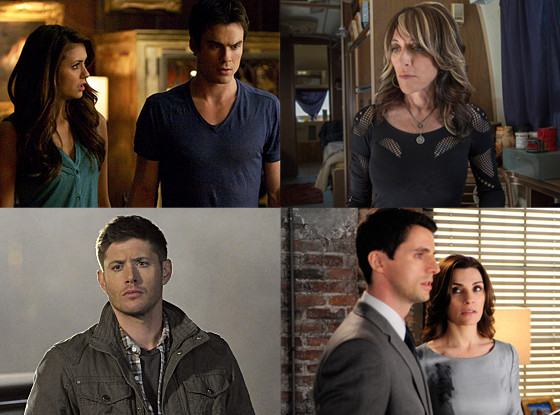 CW; CBS; FX
Sons of Anarchy is ending. Parks and Recreation is ending. Parenthood is ending. And if you need me, I'll be in the corner rocking myself in the fetal position while rewatching every episode ever.
So not yet ready to say goodbye to these shows, but we have some scoop for you to tide you over. 
And it's not all doom and gloom in the TV universe this week...Did somebody say yuletide suck-facery? Isn't there a carol about that one? Well, buckle up, Vampire Diaries fans....
Always_ : Something about Delena for the christmas episode (6x10)?
Red alert, Delena fans: "There may be some hanging mistletoe in Damon and Elena's future," Julie Plec spilled to us. "Whether or not they kiss underneath it remains to be seen." We're gonna hedge our bets and say...YES. BTW, anyone else still stuck in a perma-squee state afer the Delena Rain Kiss? Who's selling posters 'cause I want in.
Shelley: Alicia and Finn had a serious moment last night. THEIR HANDS LINGERED. GAH! Please, please, please tell me there's more coming up.
Sunday's The Good Wife was insanely entertaining TV. Alicia's "stop banging the help" speech? Amazing. We chatted with Finn Polmar himself, Matthew Goode, and got as much romance scoop out of hi mas possible. While he did admit the two have "been getting closer," he did not divulge whether we'll actually get some romance action…yet. "Right now, there's something in the air, but I'd also say…maybe in some ways they shouldn't be together," he told us. "I'd be worried whether they started hating my character!"
Matt: Tell me…is Gemma going to die on Sons of Anarchy?
We can't spoil that juicy little plot point, now can we?! But we can tell you that there will be another death before the show ends, and Katey Sagal promises that fans will be happy with how it all goes down "In terms of what happens to her next, I'm sure some people want her dead and I'm sure some people want her to live forever," Sagal said. "I can't really speak to where it's going, but the fans are going to be really satisfied with the ending. I think [executive producer] Kurt [Sutter] has spoken about this, about how he tried to approach it like it was another episode and the story keeps going, but I think it's very satisfying. And it was very satisfying filming it. Charlie [Hunnam] liked it too."
Jennabeans24: ANYTHING PARENTHOOD!
Oh, you want to know what happens when Sarah sees Mark (Three cheers for Jason Ritter's return!) for the first time, with Hank by her side? Just check back with us a little later for a exclusive first look at "the hot English teacher" back in action.
Lissa: Anything on Castiel from Supernatural?
Raise your hand if you missed seeing the real Castiel during the 200th episode?! Yeah, us too. Thankfully, Supernatural is going to get Cas-centric for a major chunk of this season. "Castiel is going to be faced with his fading grace yet again," Misha Collins told us. "But he's also going to be faced with a character from his past." And that character is none other than Claire Novak, a.k.a. Castiel's vessel Jimmy's daughter!
Jenna: I am so not ready to say goodbye to Parks and Recreation, but I'm hoping to see some of my favorite characters come back before it ends.
"You are going to see a lot of familiar faces over the past seven seasons," Jim O'Heir promised when we chatted with him. One person definitely returning for the final season is Lucy, Tom's girlfriend from season two, played by Natalie Morales. Someone who has yet to make an appearance? Rob Lowe, as O'Heir said, "I can tell you he has not walked the halls." Blergh. Boo.
Leah: Are Thea and Roy going to get back together on Arrow this season?
Doesn't sound like we'll see these two crazy, butt-kicking kids are reuniting anytime soon, and it's all thanks to one Carrie Diaries stud. Austin Butler is about to make his debut on the CW superhero drama as Chase, a DJ who catches Thea's eye. And their first interaction? "It's incendiary!" executive producer Marc Guggenheim says with a laugh. "Austin Butler plays Chase and he has incredible onscreen chemistry with Willa Holland. Expect some sparks to fly between the two of them."
Lil_ksmalls: Will Octavia and Lincoln be reunited???? #The100
Now that Lincoln's being held prisoner in Mount Weather for that mysterious Cerberus project, don't get your hopes up for a happy ending for Linctavia. But Devon Bostick did give us hope for some other characters that are going to reunite…if they can stay alive long enough, that is. "There's going to be some great reunions," he teased. "People are still trying to find each other and it's going to be a tough struggle and battle. Some people are going to get unhinged a little. And there are some shocking deaths pretty much all the time going forward."
Madison: Anything on Red Band Society, my new favorite show?
Is it hard for anyone else to watch Emma's storyline? Well, it's about to get even harder when Emma may or may not be released from the hospital before she's ready, and we see just how much her disease has impacted her family, especially her younger sibling.
Sammie: Seth Rogen! Back on my TV! So much excitement. Is he as awful to Valerie as Paulie G. is?
Oh quite the contrary! You'll be looking at The Comeback's Seth Rogen with some admiration after next week's episode. All over a blowjob scene, of course. It is The Comeback after all. 
Izzie: Rafael and Jane's big kiss. That was HOT! What's coming up for them on Jane the Virgin?
That steamy kiss is actually going to have a very big effect on Jane…and her mother? Oh yes, Xiomara is going to have a lot to say about her daughter moving on so fast from Michael. "Jane is about to make some serious decisions about Michael and Rafael, and the way she's vocal with her mother is the way that her mother is going to be vocal back to her," Gina Rodriguez told us on set. "It will be nice to see her mother putting her foot down because that is what Jane needs right now. Is Jane going to be opposed to it? Of course, but it's going to be nice to see Xo taking on the real mother role and to see Jane's growing respect for that."
Spoiler Chat is new every Tuesday on E! Online. BOOKMARK THIS PAGE so you can always find it!
Be sure to send in questions via Twitter or Facebook. WE NEED YOU!
TWITTER: Follow @kristindsantos!

—Additional reporting by Tierney Bricker, Chris Harnick and Sydney Bucksbaum