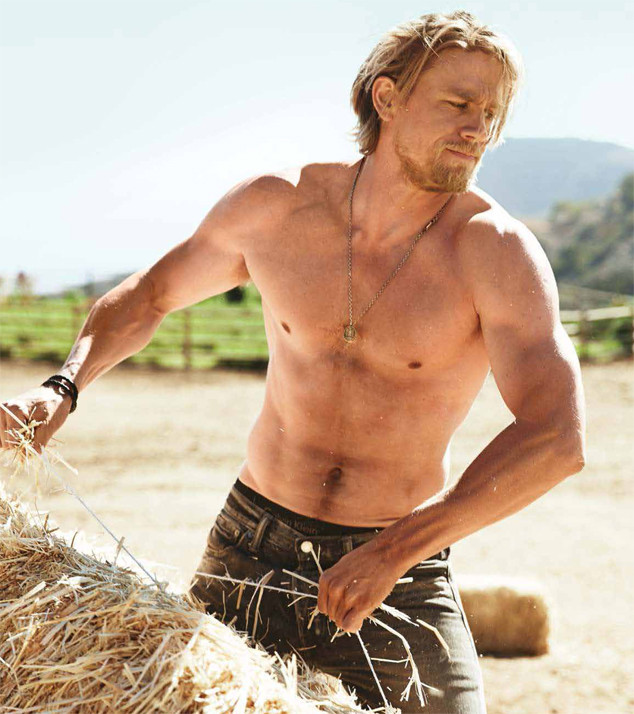 Men's Health
A half-naked Charlie Hunnam is better than a no-naked Charlie Hunnam, right?
The actor, who famously bowed out of the lead role in Universal Pictures' upcoming film adaptation of author E.L. James' Fifty Shades of Grey, poses shirtless in Men's Health's December 2014 issue. Hunnam, who also graciously flexes his buff biceps for the magazine's sexy photo shoot, makes looking and feeling good a priority. "I work out more for the mental than the physical aspect. I can get slightly dark when I'm not keeping a routine," the Sons of Anarchy star explains. "It's all about feeling healthy and energetic."
Hunnam also details his fast-paced workout routine, which coincides with his no-nonsense personality. "I go into the gym and do 75 pull-ups, 75 dips, 150 squats, 150 pushups, and then 20 minutes of ab work. Done. It takes an hour; I'm in and out," the actor says. "I sweat the whole time." To strengthen and tone his core, Hunnam says he'll "do crunches, side crunches, leg lifts." He explains, "I've probably got 20 different ab exercises that I cycle through regularly. I work my abs three or four times a week."
The actor also eats healthfully. "Good-quality travel and good-quality food are the two luxuries that I never have any guilt indulging in. I just try to avoid anything f--ked with by man too much," he explains.