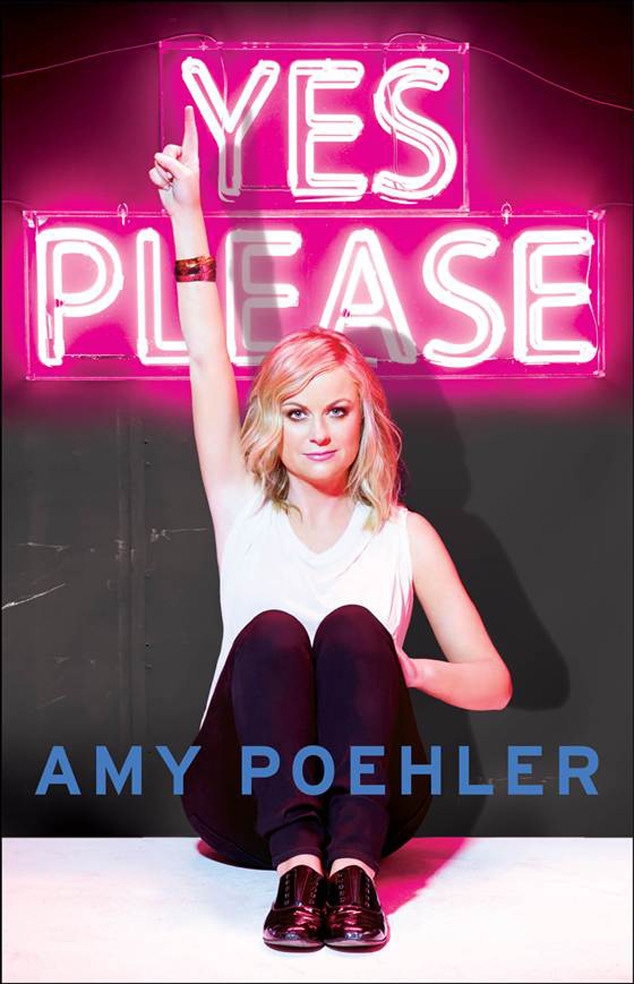 Dey Street Books
"I didn't know you were such a sexual person," Howard Stern told Amy Poehler Monday.
"I did," the Yes Please author said with a laugh.
Thus began a lengthy discussion about doing the deed and dating after divorce. "I give sex tips in the book," the 43-year-old Parks and Recreation star explained. "I mean, they're jokes, but they're true."
"I didn't have to write about [sex], but I did think it was a funny bit," she added.
Stern asked his guest about her divorce from Arrested Development star Will Arnett, with whom she has two sons. "As you know, Will and I are very, very good friends. We are doing a really good job," Poehler answered. "I don't think a 10-year marriage constitutes a failure. I think relationships are really tough."
The SiriusXM radio host then asked who called it quits, and Poehler replied, "It was kind of like...I don't know if I want to get into that. But I do think that it's interesting when you go through a divorce how everybody...Divorce is like not that special, so people are kind of interested and then they're just not anymore. It's kind of like you get all the pain but really none of the sympathy, because it's so common. The pain that you're in is very specific to you and special, and everybody reacts very differently. Your married friends get a little nervous that it's contagious, and your single friends [react differently]."
Dating felt foreign to the newly single star. "It was new and weird. I hadn't dated when there was texting. I got married in 2003 and all of a sudden I'm like, 'Oh, right now you text somebody.' That was new. There were times when I was out with guys and I was like, 'Oh, I think I might be on a date, but I don't know," Poehler said. "I remember I was at dinner with John Stamos. I think if you just are around him you are...handsome men are really something else. First of all, they're so handsome. And John is..."
"Ridiculously handsome?" Stern asked.
"I was at a restaurant. We were having dinner and I was like, 'Oh, maybe this is a date!' But I didn't know," Poehler recalled, noting that the Full House actor had asked her to dinner. "But I kinda blew it."
Wait, really?! "I can't believe I'm telling this story, but it's Howard Stern, so there you go. We worked on a movie [They Came Together]. He did a little bit in a movie that I did and a bunch of us hung out. And then later on he's like, 'Let's go get dinner. And it was fine," said the former Saturday Night Live standout, who clarified that she "was separated" at the time. "I remember thinking like, 'Oh, s--t. Like, if this is really a date…' I think I was wearing a Leslie Knop top. I think I was wearing a shirt from work."
Poehler is OK with the fact that she "didn't f--k" Stamos after their dinner date. "I think everything ended up the way it was supposed to end up," she said. Dating can be difficult due to her fame, but she said it's easy to gauge a man's intentions. "You just kind of weed that out pretty fast, but I haven't really had that experience. I've usually dated people that I have been friends with, and I'm dating someone now. I have a boyfriend whom I've known for a very long time before we started dating, Nick Kroll.
"I don't really date people I don't know, if that makes any sense," she said.
Poehler and Kroll aren't rushing their relationship by moving in together. "It's great to not live with somebody! I don't know if I ever want to live with somebody else again," the Baby Mama star said.
Does her ex-husband approve of Kroll?
"I'm talking too much about this," Poehler said. "Yeah, they know each other. It's all fine."
Regarding how she co-parents her children, Poehler told Stern, "It's all logistics when you're figuring the kids out. Everybody goes through it in their own way...We're doing a good job. I can't imagine people who can't for the sake of the kids figure it out. Louis C.K. is a very good friend of mine and is like a relationship sponsor for me. He's a great dad and a great friend. You've gotta just work it out."
Stern, of course, steered to the conversation back to more perverse territories. "I can't believe that getting back to sex makes me feel better than [talking about my relationships]," Poehler said, laughing.
How does Poehler know she's good in the sack? "You enjoy it and you have fun. You're open-minded and you feel good about yourself," she explained. "There's not a lot of shame or judgment in any of it."
"In general, anyone with a bad sense of humor is a real turnoff," she said.
Poehler watches X-rated films, but she thinks men should ease up. "Porn is so accessible that sometimes guys don't actually connect to the person that's in front of them," she argued. "It's intimacy problems."
Stern asked Poehler if she's ever watched lesbian porn, to which she replied, "Yeah. But that's not really my thing." Regarding her taste, she revealed, "It's not too crazy. I like my porn like my comedy: Done by professionals, women who are at the top of their game. So, I like professional ladies who are enjoying themselves. I'm not an amateur person. I want everybody to look good and be good at their jobs."
When does she watch porn?
"Whenever I can," she joked. "Whenever I find the time."
"Oh my god! I just remembered my dad's listening to this! Sorry, dad!" Poehler laughed. "I just called him this morning and was like, 'I'm gonna be on Stern this morning!' S--t! Sorry, dad! Love you, pop!"