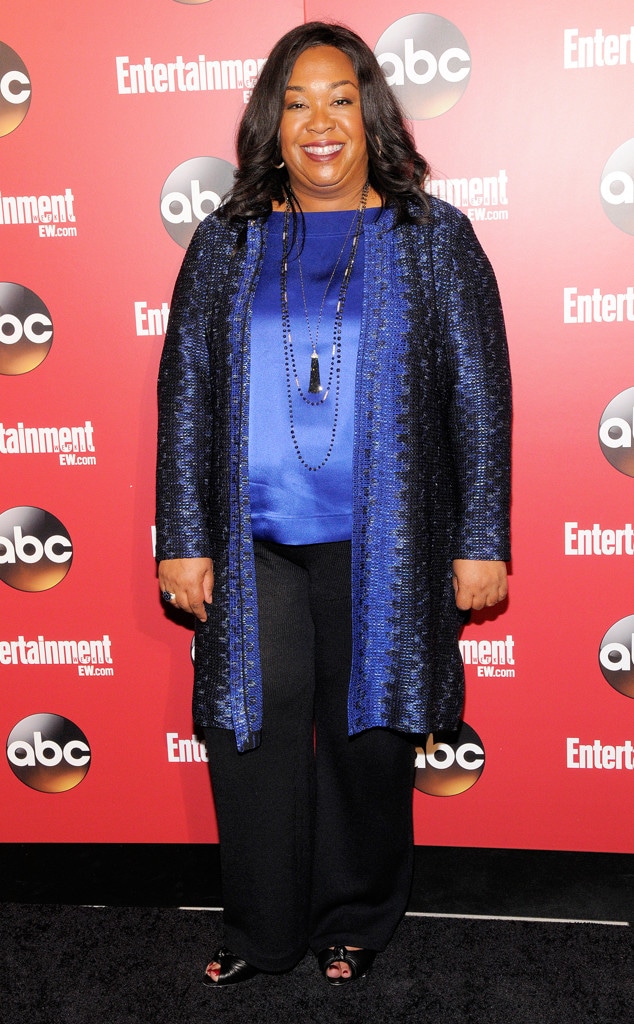 ABC/Lorenzo Bevilaqua
Shonda Rhimes doesn't have time for your closed-minded ways of thinking. The Scandal and Grey's Anatomy creator shot down a Twitter user who complained about gay scenes on her shows, including those on the new hit How to Get Away With Murder. Scandal and How to Get Away With Murder both feature gay male characters in the regular cast.
The tweet in question: "The gay scenes in Scandal and How to Get Away With Murder are too much. There is no point and they add nothing to the plot."
Rhimes was having none of that business and responded with a series of tweets for all the world to see. "There are no GAY scenes. There are scenes with people in them. If you are suddenly discovering that Shondaland shows have scenes involving people who are gay, you are LATE TO THE PARTY. If u use the phrase "gay scenes", u are not only LATE to the party but also NOT INVITED to the party. Bye Felicia. #oneLOVE."
Rhimes took her leave from Twitter shortly after, but first shared a message to her followers. "Ok, tweeps. Someone got me all riled up and fighting 4 my friends and their love and the equality of all—I am supposed to be WRITING. So, I know you lovelies are asking me questions but I have to go. And finish making script notes. So you have more #GreysAnatomy to watch. I love all you Tweeples. Even the ones who still need to grow. And remember that at some point, someone discriminated against you too. I don't know why this kind of hate is out there. Ugh. #onelove. At least in Shondaland. Have a great rest of your weekend!"
Rhimes is an executive producer on How to Get Away With Murder, the show was created by and is run by Peter Nowalk who has spoken very frankly about scenes involving Connor (Jack Falahee), one of Annalise Keating's (Viola Davis) law students.
"I knew I wanted to push the envelope, especially with the gay sex," Nowalk told E! News before the show's big premiere which featured Connor performing anilingus. "And to me, writing the gay characterization and writing some real gay sex into a network show is to right the wrong of all of the straight sex that you see on TV. Because I didn't see that growing up, and I feel like the more people get used to two men kissing, the less weird it will be for people. I just feel like it's a lack of vision that you don't see it on TV, but ABC has never had a note about any of the weird stuff in the show, so I'm gonna keep it going."
And keep it going he has.
Grey's Anatomy, Scandal and How to Get Away With Murder all air Thursdays on ABC.