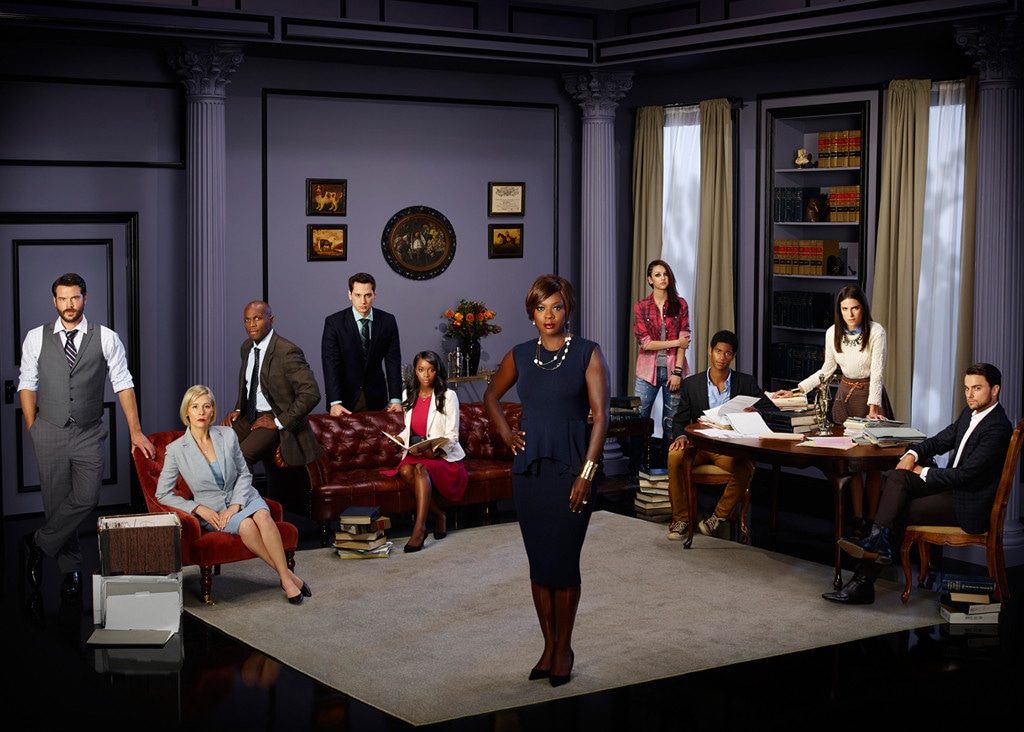 ABC/Craig Sjodin
Here's hoping you put the kiddies to bed before watching How to Get Away With Murder tonight!
In case you've forgotten what the first episode of Shonda Rhimes' other shows were like (Grey's, Private Practice and Scandal), there were some very, ahem, adult things that happened in the pilot. The show feels powerful, commanding, gripping and...grown-up.
The sex scenes did not hold back tonight (for a network show!), and included an adulterous (and hot!) sex scene for leading lady Annalise Keating (Viola Davis--who should win all the awards), and a gay sex scene.

Peter Nowalk, who created Murder, and who worked alongside Rhimes on Grey's Anatomy and Scandal, reveals, "We never got any pushback about [the sex scenes] from the network."
And you can expect a lot more same-sex sex and same-sex romance as the series continues because, as Nowalk puts it, "It's part of life."
"I knew I wanted to push the envelope, especially with the gay sex," Nowalk explained to me. "And to me, writing the gay characterization and writing some real gay sex into a network show is to right the wrong of all of the straight sex that you see on TV. Because I didn't see that growing up, and I feel like the more people get used to two men kissing, the less weird it will be for people. I just feel like it's a lack of vision that you don't see it on TV, but ABC has never had a note about any of the weird stuff in the show, so I'm gonna keep it going."
Nowalk reveals that Connor (Jack Falahee), the gay character, is definitely going to have a romance in the first season, right off the bat, starting with the second episode. It was in important to show a gay person as a full-fledged character."
And of course it goes without saying, there will be lots of straight romance and straight sex, too. Nowalk teases this for what's ahead for all of the romantic developments: 
"There's a lot of romantic entanglements. Wes and his neighbor, there's going to be something strange that happens in their relationship, Laurel and Frank, she got a phone call from him and he was shirtless in the four months later, what's gonna go on there. Michaela's engaged what's gonna go on there now that she's involved in a murder. Connor's definitely going to have a romance the first season, starting with the second episode. It was important to me to show a gay person as a full-fledged character.
And there is So. Much. Else. To look forward to with Annalise (Viola Davis)! "We'll delve into Annalise's romantic life. She has two men in her life right now, and that will be complicated."
And by the way, that nipple rub that Annalise did to her student in the bathroom? Nowalk reveals that it was improvised. "That's what I love about Viola. The script says that she touches him inapporpriately and she went there. She is game for those weird moments."
Stand by for the next Spoier Chat for more on how exactly that love triangle plays out, and the amazing flashback and flashforward structure of this show. 
So.....did you love it as much as we did? Hit the comments! And sign on to Twitter for our #EDrinkingGame now.