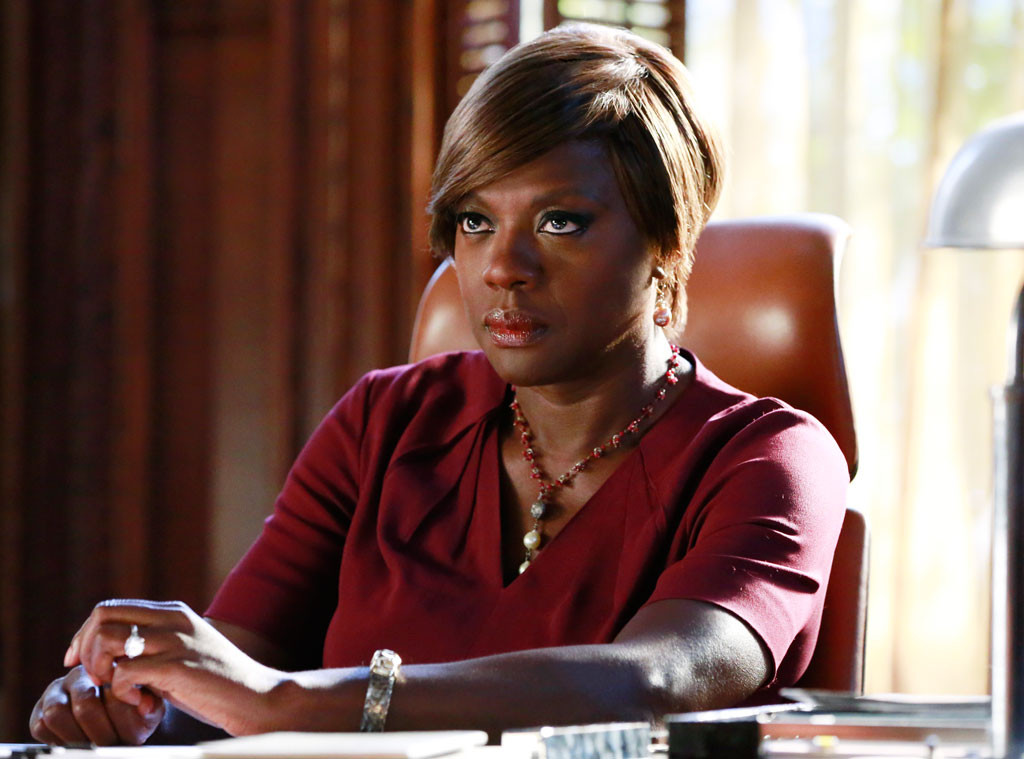 ABC/Mitchell Haaseth
Last night's How to Get Away With Murder had everything: Elizabeth Perkins, gay sex, penis pics and Viola Davis' character removing her wig and makeup. How to Get Away With Murder would probably be Saturday Night Live's Stefon's favorite club, but luckily for us it's on TV for the entire world to see. The ABC drama from Peter Nowalk, Shonda Rhimes and Betsy Beers is breaking all sorts of ground and viewers are taking note.
How to Get Away With Murder is knocking it out of the park in terms of viewers. The premiere had 21.1 million viewers and a 6.1 rating in the coveted 18-49 demographic in terms of viewers who watched live and a week later on their DVR. That's huge, but its real accomplishment is its content.
How to Get Away With Murder is treating its gay character Connor (Jack Falahee) as anything but a token. The show is unapologetic about depicting his sex scenes—and why should they be? It's 2014—breaking ground in its premiere by showing the first instance anilingus on network TV. Connor is already developing into a character with depth. He simply isn't set dressing. It's refreshing and more than welcome.
"I knew I wanted to push the envelope, especially with the gay sex," Nowalk told E! News before the show's big premiere. "And to me, writing the gay characterization and writing some real gay sex into a network show is to right the wrong of all of the straight sex that you see on TV. Because I didn't see that growing up, and I feel like the more people get used to two men kissing, the less weird it will be for people. I just feel like it's a lack of vision that you don't see it on TV, but ABC has never had a note about any of the weird stuff in the show, so I'm gonna keep it going."
Keep on going!
The Thursday, Oct. 16 episode (which was directed by ER's Laura Innes) featured Davis' Annalise Keating uttering, "Why is your penis on the dead girl's phone?" Forget the sext aspect—but really, don't because this will obviously be a huge development and ABC heavily promoted those shocking nine words—the big moment in that scene was Davis stripping down. She removed her wig and wiped off her makeup, making for a powerful scene. Davis' character was both vulnerable and an example of true strength.She literally wiped away her façade, letting the world see a character in ways we haven't seen on TV before. There she was, basically as bare as one could get, confronting her husband.
Davis got all sorts of attention for joining the show. She's been frank about why she is doing series TV after two Oscar nominations, basically boiling it down to she wanted a meaty role, something she wasn't necessarily being offered in films.
"I wanted to be the show. I wanted to have a character that kind of took me out of my comfort zone. And that character happened to be in a Shonda Rhimes show in How to Get Away With Murder…And I love the fact that she's messy and mysterious and you don't know who she is. She's not necessarily nurturing and, 'Come sit on my lap so I can talk to you, baby.' She's not the kind of person that—doesn't need God, Jesus, or Buddha, because she knows all the answers. She's messy. She's a woman. She's sexual. She's vulnerable. And I think—I feel extremely fortunate that I am alive and still active and this role came to me at this point in my life," Davis told members of the press.
Four episodes in and it's safe to say Davis got what she wanted. The character isn't inherently likable. She's more of an enigma, but played by anybody else, well, How to Get Away With Murder wouldn't be the hit it is. Davis wanted to be the show…and what a show it is.
How to Get Away With Murder airs Thursdays, 10 p.m. on ABC.