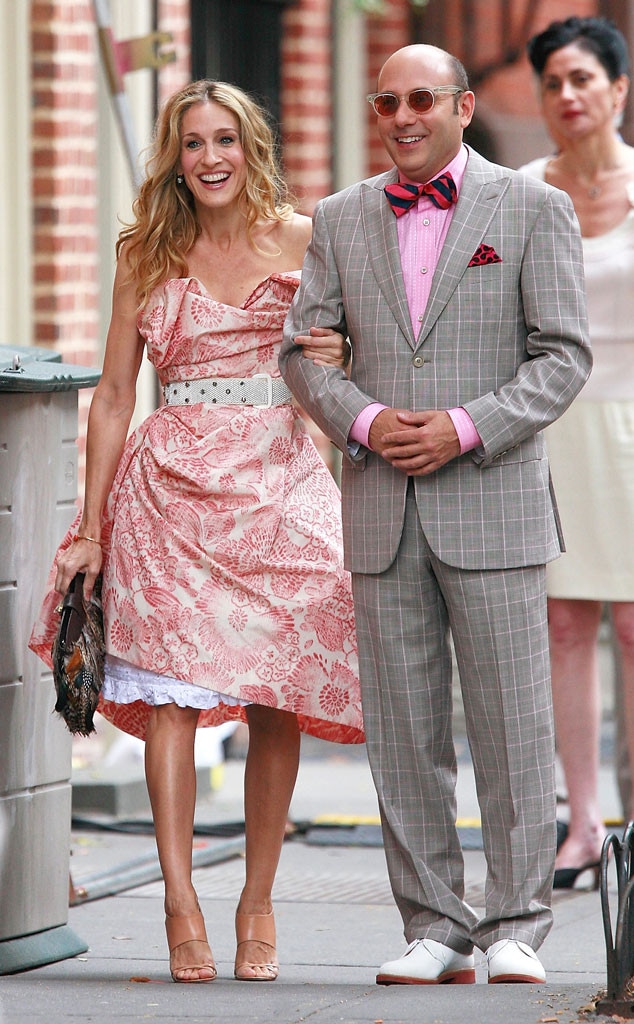 Marcel Thomas/FilmMagic
Here we go again.
Another round of Sex and the City movie rumors is already making us thirsty for some cosmopolitans.
Sarah Jessica Parker and Kristin Davis tweeted each other day with mysterious tweets that have lead many to believe they were talking about a third SATC flick.
On Friday, Davis posted a photo of her and SJP with the message, "@SJP Miss YOU XOXOXO!!
Parker replied, "@KristinDavis Me too you! Heard the news? X"
And then left Davis us hanging with this: "@SJP Yyyeessssss…But I'm afraid to get TOO excited yet - You let me know when we can celebrate. XO."
Willie Garson, who played Stanford Batch on the HBO series and in the two movies, insists he doesn't know what, if anything, is happening.
"It's all over the internet today," he told me last night at the premiere of Alexander and the Terrible, Horrible, No Good, Very Bad Day (in theaters Oct. 10). "I have no idea and I'm not being coy. I have no idea."
But he is trying to find out.
"I actually emailed young Ms. Parker and I haven't heard back yet," he said. "But what is going on?" (UPDATE: Parker tweeted me this morning—I die!—that she has now responded to Garson. "Oh we are all caught up via email X sj," she wrote.)
The White Collar star would jump at the chance for another installment of SATC. "I would do it till I'm 90," he said.
However, he warned, "These rumors always come up and we never know. I read it online and [Parker] didn't come out and say, 'Roll it.'"
Jennifer Hudson, who played Carrie's assistant in the first movie, added to the excitement on Friday when she said during an appearance on Dish Nation, "I think it might be [happening.] Somebody just came to me talking about that. So if it's in the talks, it might happen. So look out for your girl Louise from St. Louis."
SJP has said that she and SATC creator Michael Patrick King already have a third story in mind.
Watch:
Willie Garson Responds to "Sex and the City 3" Rumors