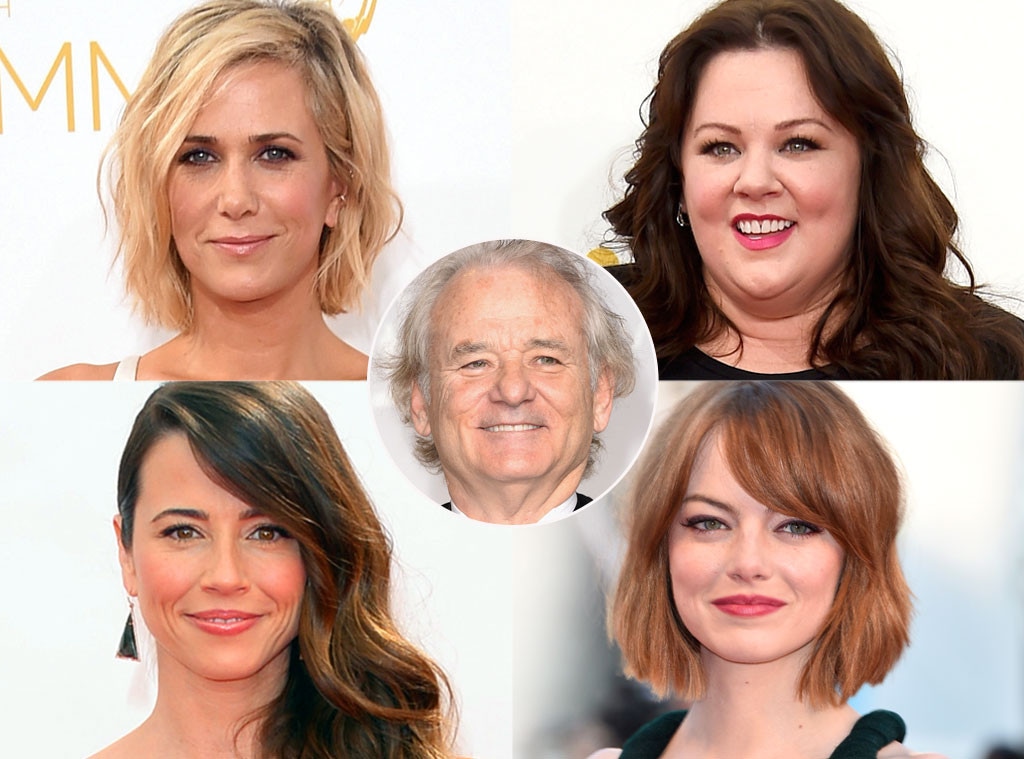 Getty Images; WireImage
Step aside, boys: it's time for the funnyladies to shine in Tinseltown. At least, if the movie biz is in the hands of Bill Murray. 
After Bridesmaids director Paul Feig became the front-runner to direct the Ghostbusters reboot with sources telling The Hollywood Reporter that the long-awaited third chapter will focus on female Ghostbusters, Bill Murray, who played Dr. Peter Venkman in the hit 1984 flick, was asked about his thoughts in regards to the follow-up film as well as his feelings about watching ladies battling spirits on the big screen. 
"It sounds great to me," he told Access Hollywood's Scott Mantz. "It sounds as good an idea as any other! There are a lot of women that could scare off any kind of vapor!"
"No, it's a grand idea," he continued. "I don't know who they're talking about, but it's a good idea, I would watch it! I mean, I love Robert Palmer's videos, so why wouldn't I love the female Ghostbusters?"
Later, in an interview with the Toronto Star, Murray admitted that the female Ghostbusters "would probably have better outfits" before he offered up a few excellent casting suggestions. 
"Melissa [McCarthy] would be a spectacular Ghostbuster," he said of his co-star in St. Vincent, which premiered at the Toronto Film Festival over the weekend. "And Kristen Wiig is so funny—God, she's funny!"
"I like this girl Linda Cardellini a lot," he continued, praising the plethora of female comedians in Hollywood. "And Emma Stone is funny. There are some funny girls out there."
While Murray—nor any of the aforementioned women—are formally attached to the project, McCarthy was also asked on Saturday if she would like to sport a proton pack if asked to join the project, and she didn't have any hesitation about working with the ladies on Murray's handpicked list. 
"Oh, my God, that's daunting," she said. "That's taking on a legend, a legendary movie. But I would do anything with those ladies, anything at all."
Would you watch a female Ghostbusters? What do you think of Murray's casting suggestions? Tell us in the comments!