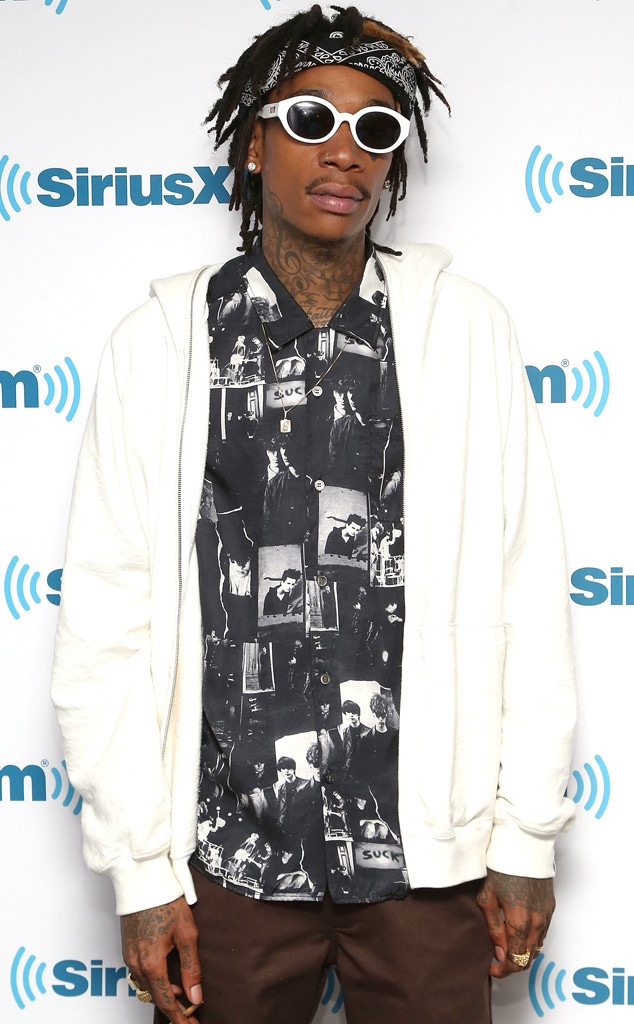 Taylor Hill/Getty Images
Wiz Khalifa is a wanted man!
A warrant was issued for the rapper's arrest Wednesday after he failed to appear at a scheduled hearing in Texas regarding his misdemeanor arrest, court records obtained by E! News show. Instead of being in an El Paso courtroom, Wiz (real name: Cameron Thomaz) was in New York appearing on The Tonight Show Starring Jimmy Fallon.
Per the BBC, Wiz's no-show hearing stemmed from his May 2013 arrest at El Paso International Airport. At the time, a TSA officer found a ""prohibited item" (which was actually 0.5 grams of weed, according to a police statement) on the rapper during a TSA screening.
At the time of his May arrest, Wiz was charged with possession of marijuana (a misdemeanor) and taken to El Paso County Detention Facility, where his bond was set at $300. Before his release, he tweeted a "Jail selfie" from behind bars.
So what, pray tell, was Wiz up to on the Tonight Show—besides missing his court hearing? Amber Rose's love teamed up with Jimmy for a rousing game of Pictionary against Megan Fox and Nick Cannon.
Despite the warrant out for his arrest, Wiz seemed to be in good spirits Thursday. He tweeted about, among other things, his Tonight Show appearance, going so far as to call his corn dog illustration "modern art."
A rep for Mr. Khalifa did not immediately respond to E! News' request for comment.
(E! and NBC are both part of the NBCUniversal family.)
—Reporting by Claudia Rosenbaum