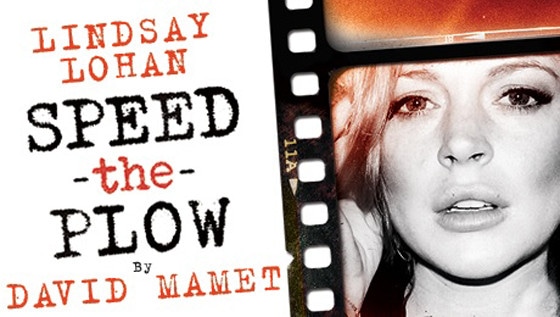 ATG
UPDATE: Lindsay Lohan said in a statement, "I am thrilled to be making my theatrical debut in London this year in David Mamet's Speed the Plow. Having more than two decades of experience working in the entertainment and movie business, I am excited for the new challenge presented by a role which showcases the ins-and-outs of the American movie business. David Mamet is an iconic play writer and I am excited to be playing this incredible role."
__________________________ 
So fetch! This fall, Lindsay Lohan's face may be gracing the winding, theater poster-filled walls of London's Underground subway system, as organizers have confirmed the 27-year-old actress will make her stage debut in the city.
On Thursday, June 26, the Ambassador Theatre Group announced that the Mean Girls actress will star in a revival of the David Mamet play Speed-the-Plow, which offers a satirical look at Hollywood, in the company-owned Playhouse Theatre in the British capital's West End theatre district.
Lohan mentioned the project earlier this month in a  New York Times interview. She is playing the main female role. A publicity photo and official synopsis for the play was also released.
"When a hugely bankable star agrees to appear in a sure-fire commercial hit, film producers Bobby Gould and Charlie Fox are convinced this is the break of a lifetime. That is until Karen (played by Lindsay Lohan), a temporary secretary, derails the dream," the play's official synopsis reads. "When she persuades Bobby to dump the blockbuster in favor of a story which can only be described as box-office poison, Charlie is forced to resort to desperate measures…"
The new revival of Speed-the-Plow will be directed by Lindsay Posner and will run from Sept. 24 to Nov. 29; its official opening night is on Oct. 2 (a day before Aaron Samuels asked Cady Heron what day it was in Mean Girls.)
Eight shows will be produced every week during that time. Other cast members have not yet been announced. Tickets are currently on sale on the theater's website, with prices ranging from about $25.50 to a little over $100.
Lohan, a former child star who was almost 2 years old when Speed-the-Plow debuted on Broadway, tweeted a photo of what appears to be a theater's stage door on June 20.
The actress has struggled to revive her acting career in the United States following the success of now-cult 2004 hit comedy movie Mean Girls due to years of personal and legal turmoil, which has included jail stints and substance abuse. Her troubles were documented on the OWN docu-series Lindsay earlier this year.
Madonna played Karen in the original 1988 Broadway production of Speed-the-Plow, which marked the pop queen's stage debut and won two Tonys. In the play, which has been produced in London in the past, Fox bets $500 that Gould would be unable to coax the woman into bed. Alicia Silverstone and Elisabeth Moss of Mad Men have also played Karen in other productions.
—Reporting By Baker Machado