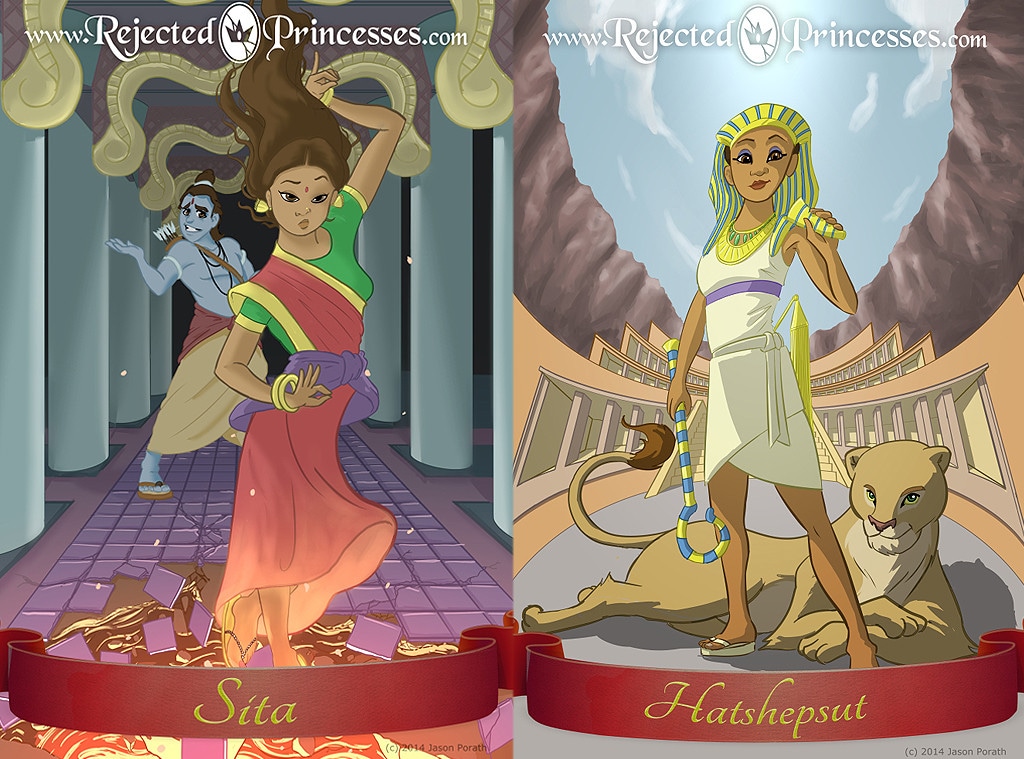 Jason Porath
According to this former DreamWorks artist, some women from history are a little too "offbeat" to be featured in an animated princess movie. So he's giving them their own time in the spotlight.
Jason Porath is the man behind the website RejectedPrincesses.com, where he draws women from history and mythology that have really incredible backstories—stories that a studio like Disney would never, ever touch. He gives them a shiny Disney-esque look and tells their tale, and sometimes these tales lean more toward the R-rated side of the spectrum than the Mickey Mouse-approved PG side.
And believe it or not, his inspiration for this project came from the hottest Disney princesses around right now: the girls of Frozen. Jason tells E! Online:
"It all spun out of a lunchtime conversation I was having a while back when I was working as an effects artist at DreamWorks Animation. Frozen had just come out, and there was an online article going around about how the Frozen princesses weren't good role models. So, I posited to the lunch group, one could do WAY worse than the Frozen girls—so who would come up with the woman least suitable to be an animated princess?"
From there it snowballed out into a personal passion. I found myself really fascinated by how narrowly-defined the animated princess mold was, and the massive spectrum of women across history and literature that just end up winnowed down to this tiny sliver of what ends up in the mainstream."
Months after the initial conversation, he quit his job at DreamWorks to "pursue his own projects," like these rejected princesses. He hopes to one day put all these ladies together in a book.
After reading about some of the crazy s--t these women did, we wouldn't just read the book; we'd totally watch a movie based on their lives. Sometimes Snow White and Sleeping Beauty just can't cut it for us.
You can visit his website (updated every Wednesday) to see his full collection of rejected princesses, but here are some of our favorites:
Sergeant Mariya Oktyabrskaya, Russia:
Who Was She: The first female tanker ever to win the Hero of the Soviet Union award.
Plot Lines Too Cool for Disney: "During World War 2, her army officer husband Ilya was killed in action. In response, Mariya sold literally all of their belongings in order to buy a tank ("Fighting Girlfriend")…On her first outing in the tank, she outmaneuvered the German soldiers, killing around thirty of them and taking out an anti-tank gun. When they shelled her tank, immobilizing Fighting Girlfriend, she got out—in the middle of a firefight—and repaired the damn thing. She then got back in and proceeded to kill more Germans."
Who Was She: A princess character from the Hindu epic Ramayana.
Plot Lines Too Cool for Disney:  "For those unfamiliar with the Ramayana, here's a Cliffs notes version: for 90 percent of the book, it's basically Mario/Princess/Bowser by way of Tarantino. Bad guy (Ravana) kidnaps princess (Sita), good guy (Rama) goes on bloody rampage for years in order to get her back. Kills Ravana, gets back the princess, yay for everyone."
Queen Hatshepsut, Egypt:
Who Was She: Egypt's first female pharaoh, and also one of the most successful. She reigned for 20 years.
Plot Lines Too Cool for Disney: "In order to solidify her claim to the throne, she spread the word that her parents were told by the gods that she was to be pharaoh. The official story was that, at the gods' behest, her mother gave birth to her in a LION'S DEN. To quiet the gossip at court, she began her rule wearing men's clothing, including the pharaoh's false beard. Once they stopped flapping their gums, she went back to wearing whatever the hell she wanted."
Who Was She: 17th century African queen.
Plot Lines Too Cool for Disney: "She began her political life as her nation of Ndongo was fighting off a Portuguese invasion. Her brother, a by-all-accounts wimp, could not bend over backwards far enough for the Portuguese, and once he ascended to the throne, the Portuguese just tossed him in jail and took over. Nzinga approached the Portuguese and demanded her brother's return and that they leave Ndongo. At their meeting, in a sign of disrespect, the Portuguese offered her no chair to sit in, instead providing merely a floor mat fit for servants. In response, Nzinga ordered one of her servants to get on all fours, sitting on her as she would a chair. After the negotiations concluded, she slit her throat in full view of everyone, and informed them that the Queen of Ndongo does not use the same chair twice."
Sorry, Queen Elsa. You've got nothing on these women.