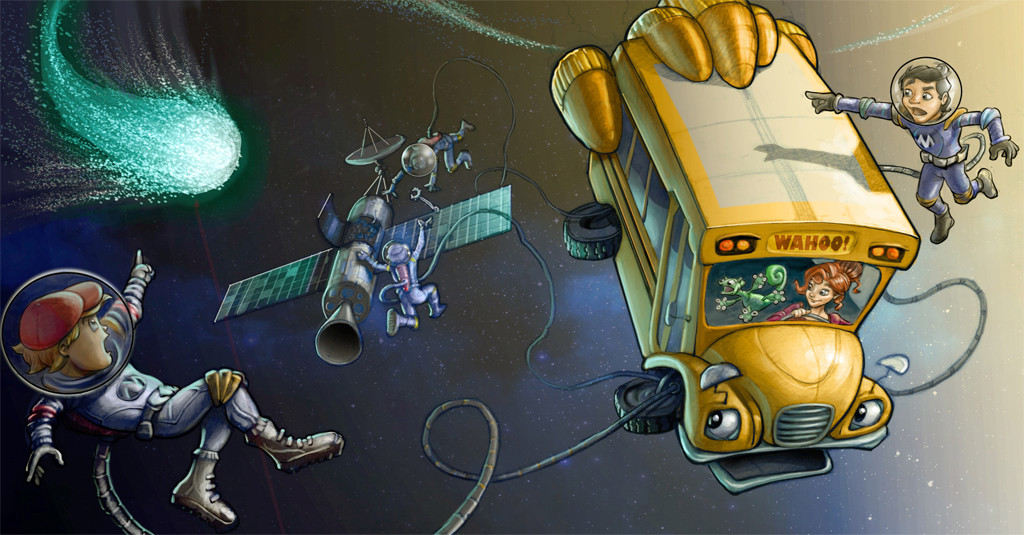 © Scholastic Entertainment Inc 2014/Netflix
Get ready to board The Magic School Bus once again. Scholastic Media is reviving the popular brand with a new series on Netflix, The Magic School Bus 360°, set to launch in 2016.
The new series will be a modern take on the classic Scholastic book and TV series that followed the adventures of a teacher, her class and a school bus with magic abilities. Rest easy, Ms. Frizzle will be back. No word on whether Lily Tomlin will return to voice the redhead teacher, but she is part of the Netflix series with her new series Grace and Frankie.
"Scholastic Media is a powerhouse creator and producer of top-quality programming for kids and families and its flagship series like The Magic School Bus, Clifford The Big Red Dog and Goosebumps have been huge hits on Netflix in all our territories," Ted Sarandos, chief content officer of Netflix, said in a statement. "We're thrilled to expand our relationships and to be the first-run home of The Magic School Bus 360°, introducing a whole new generation to Ms. Frizzle and her hijinks."
The Magic School Bus 360° will consist of 26 half-hour computer animated episodes. The original series ran for four seasons beginning in 1994. The new series, while modernized, will continue to explore science and encourage young viewers to ask questions and explore the scientific process. The original Scholastic books hailed from writer by Joanna Cole and illustrator Bruce Degen.
"The Magic School Bus revolutionized kids' television through a unique and powerful blend of entertainment and science information. We're proud that it's become an evergreen show that children and parents continue to watch together," Deborah Forte, president of Scholastic Media, said in a statement. "Our new rendition The Magic School Bus 360° is a similarly compelling addition to the current landscape of children's programming and on Netflix is bound to reach more families around the world than ever before who will now be able to watch the show anytime, anywhere they want."