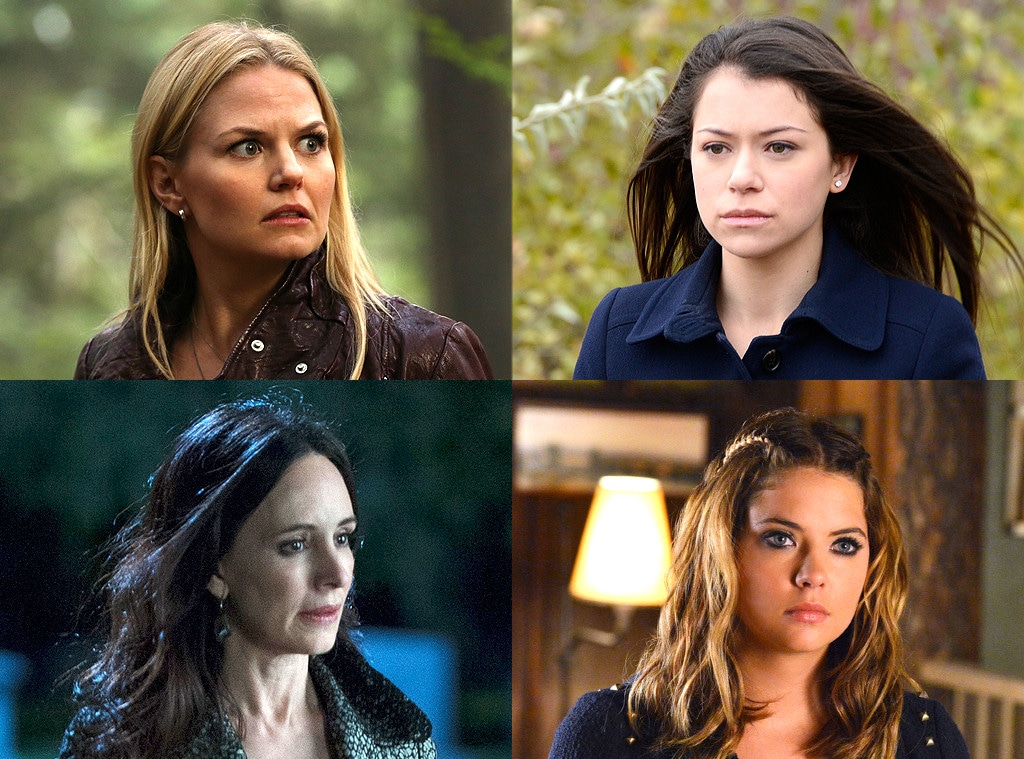 ABC/JACK ROWAND, ABC FAMILY/Eric McCandless, ABC/Colleen Hayes, BBC
It's time for a Spoiler Chat scavenger hunt!
We know that it's Monday, (ugh!) but we thought we'd make things a bit more fun by playing a little game with our fellow small screen enthusiasts. In today edition of Spoiler Chat you will find scoop on the following items: A naked hottie, a beloved teen couple, a fierce magical rivalry, and a shocking switch-up that is going to change the course of an entire series.
Happy hunting, TV fans—and the first person to find all the items wins a cookie! (Editor's Note: Wow this is really awkward. We actually ate all the cookies. Sorry about that.) 
Rachel: I've been watching the Once Upon a Time finale over and over! Anything you tell us about season four?
From what we've heard, next season the rivalry between Regina and Emma is back on, and more FIERCE than ever. Regina won't take it lying down that Emma destroyed her one chance at true happiness by bringing back Maid Marian.
Tyra: Orphan Black is so so so good! Please spill on what's coming up for next week—I can't wait!
It's the moment we've all been waiting for! This week's episode features a character pairing that we've wanted ever since we first heard the words "seestra" and "sharesies." That's right, Clone Clubbers! On Saturday, Felix and Helena are finally coming face-to-face and it's even more incredible than we could have ever hoped for. (There may or may not be hissing involved…) Oh and brace yourselves for a very special treat: naked Hot Paul!
Trisha: You guys are only talking about Emison and Ezria in all your Pretty Little Liars Scoop, but what about Haleb?!
We've got to warn you, our Hanna is going to be going through quite a bit of changes in this upcoming season. We'll let executive producer Joseph Dougherty explain it all to you: "Hanna's look is going to be adjusted, Hanna's attitude is going to be adjusted. Caleb and Hanna have both changed, and they've both had experiences that the other one is un-privy to," the showrunner said. "And in both cases for their experiences, they really aren't at liberty to discuss it, and they're both personally under a lot of stress inside. So I think both of them are kind of looking to the other to kind of say, 'Take me back to that safe place where I once was before.'"
Chris: I passed out from excitement when I heard that The Comeback is coming back. What's Val going to be up to?
First of all, we applaud your exquisite taste in television. Secondly, get ready for a whole lot of young and fresh-faces when Lisa Kudrow's Valarie Cherish shimmies back into our lives. We're especially thrilled to meet Travis, a young college student who will have a major presence in this new season, despite his snobby attitude. Could this be Franchesca's new boy-toy now that she's all grown up? We'll never tell…
Delilah: Got anything on The Originals? It's my favorite show and I need scoop like, now!
We did get a chance to chat with Joseph Morgan, and while he understandably couldn't say much about what's coming, he was able to tell us that if you thought last week's episode was a doozy, the finale "takes it even further." The handsome hunk revealed, "It's a huge episode, and it's also very terrifying. It's a really frightening episode," which makes sense, given that it was directed by the same guy who directed that super creepy hospital episode from earlier in the season.  "I don't think you're going to be disappointed," Morgan promised. "We're going to go out real strong."
Got a TV question? Tweet it to @kristindsantos—or send an Instagram video—with #AskKristin, and you may be part of the next Spoiler Chat or Watch With Kristin show!
SPOILER CHAT comes out every Monday and Wednesday at 9 a.m. ET/6 a.m. PT. Bookmark the link!