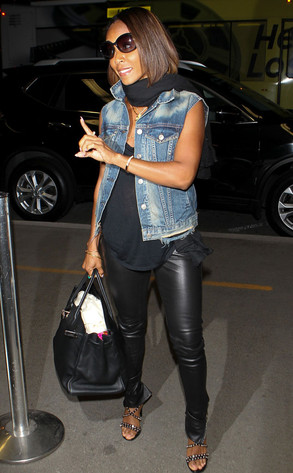 GVK/Bauer-Griffin/GC Images
Jada Pinkett Smith is breaking her silence regarding the controversial photo of Willow Smith, 13, lying in bed with a shirtless Moisés Arias, 20. Though calls to the Gotham star's rep went unreturned Wednesday, a paparazzo got the actress to comment on the picture when she arrived at the airport.
"Here's the deal: there was nothing sexual about that picture or that situation," the actress said. "You guys are projecting your trash onto it, and you're acting like covert pedophiles, and that's not cool."
TMZ then asked Pinkett Smith if she would still allow her daughter to take similar pictures in the near future, but she declined to comment and headed inside to check in for her flight to New York City.
Neither Willow nor Arias has commented on the photo, which took the internet by storm this week.
By comparison, the picture looks pretty harmless. Arias' 490.tx blog features multiple snapshots of Willow, brother Jaden Smith, and pals Kendall Jenner and Kylie Jenner. One photo even shows Jaden, 15, lounging in what appears to be the same bed where his kid sister's picture with Arias was taken.