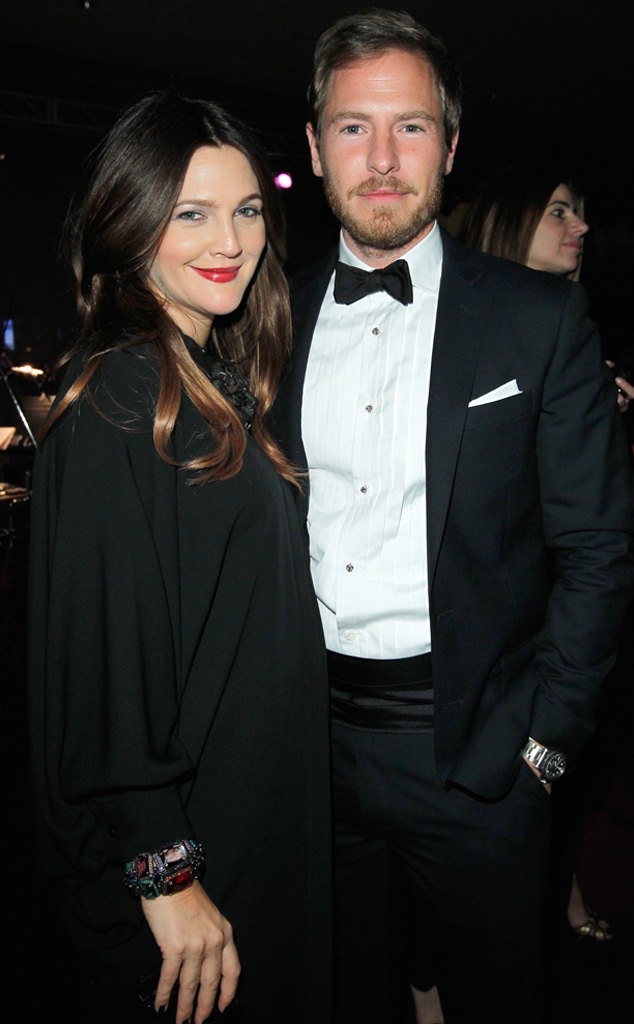 Donato Sardella/Getty Images
Drew Barrymore is now a proud mother of two!
The Blended actress and her art consultant husband, Will Kopelman, welcomed their second child together Tuesday, another baby girl, the actress' rep confirms to E! News.
"Happy to announce that today we are the proud parents of our second daughter, Frankie Barrymore Kopelman," the couple said in a statement. "Olive has a new little sister, and everyone is healthy and happy!"
Well, apparently the dim sum brunch did the trick! Barrymore posted photos from Sunday of her happily chowing down on a variety of dishes. 
She and Kopelman wed in an intimate ceremony at the actress' Montecito, Calif., home in June 2012. The bride, who was six months pregnant with her first child at the time, wore a Chanel gown as she walked down the aisle in front of celebrity guests including Cameron Diaz, Jimmy Fallon and Reese Witherspoon.
"Watching my husband give his speech to everyone was amazing. I was so in awe of his eloquence and articulation. I was super turned on, excited, proud. I had so many really wonderful emotions!" Barrymore would later tell E! News. "I was just really super-present feeling very euphoric. My heart was outside my body and my skin was tingling, and the whole thing was just so special and perfect."
The proud parents' first child, Olive, was born in September 2012. The Golden Globe winner announced her second pregnancy in November 2013. 
People was first to report on Frankie's arrival.
In January 2014, the Flower Cosmetics creator opened up about her varying pregnancy cravings. "The [craving] with Olive was tamales," Barrymore, 39, told E! News. "Anything tamale. I love tamales. With this little lovely lady, it's like pan-fried noodles from any Chinese restaurant. I drive by them and I fantasize about them. I find myself like pulling over a lot for food. Like the car just goes off the lane and over to the restaurant." As far as her weight goes, Barrymore said, "I'm keeping it in check. I'm exactly where I'm supposed to be. I gain like about 40 pounds a pregnancy, which is totally fine."
In early April, Barrymore spoke to E! News during Safe Kids Day in L.A. about the lessons she's learned since she first became a parent. "I hope I don't stress as much with the next kid, because all I cared about—and all I do care about—is my kids' safety. I mean, I just do," the always bubbly Whip It director admitted. "You have two eyes on them at all times and then you start wondering with the second, how it's going to work when you have to separate your eyes and focus on two. I just think about all the women who have done this throughout history, and if they did it, I can do it."
Watch:
How Does Drew Barrymore Keep Kids Safe?
Knowledge is power, Barrymore reiterated. "I really think the more you know, the more relaxed you will be, or the more fun you will have. I think that when you feel like you don't have the empowerment of information of what is the safest and best thing to do, it's just too intimidating. I just think the smarter you are about it, the more they can just feel your joy and you're on top of it. I'm all about homework and capability and problem solving," the actress explained. "But hopefully my kids won't feel that. They'll just be like, 'Wow, mom's a goofball.' That's exactly how I want it to be."
The Big Miracle star was feted at a star-studded baby shower in mid-April. "Everyone had a great afternoon out in the sun. There was tons of laughter and music coming from the house," a source told E! News. "Drew was so happy to see her friends and have one last shindig before the baby comes later this month. It was a really relaxed atmosphere and all about getting together with the people she loves."