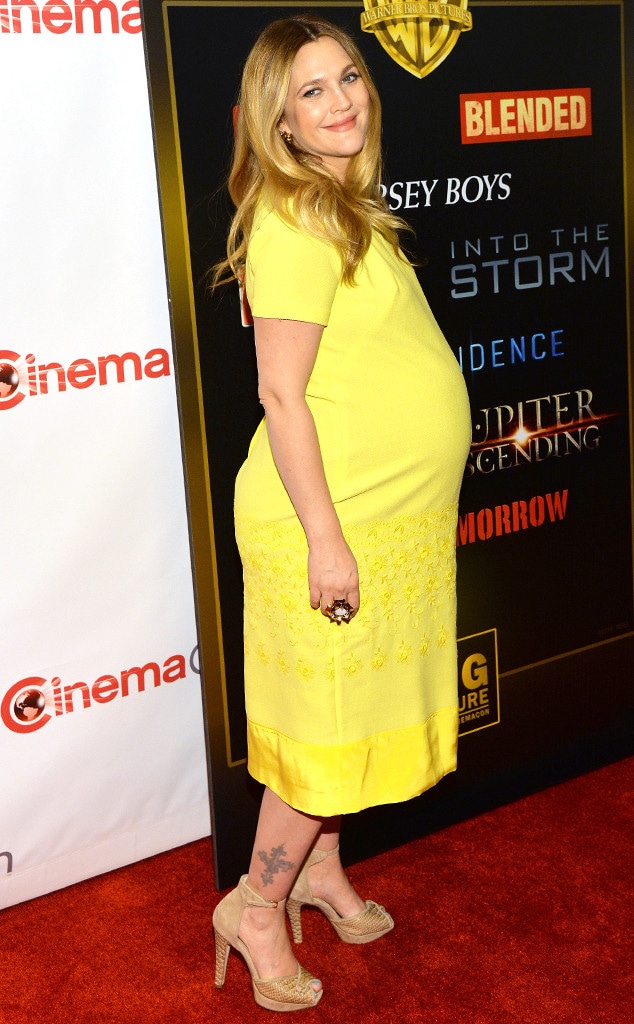 Michael Buckner/Getty Images for CinemaCon
Drew Barrymore is getting ready for baby No. 2!
The pregnant actress, who is due to give birth in two weeks, was surrounded by close to 50 of her nearest and dearest to celebrate her baby shower on Saturday at her Hollywood Hills home, E! News has learned. Cameron Diaz, Gwyneth Paltrow, Reese Witherspoon and more celebs attended the star-studded event.
Barrymore's hubby, Will Kopelman, was also there for the co-ed festivities, which lasted all afternoon.
"It was a big backyard party with around 50 guests. Reese Witherspoon and Gwyneth Paltrow were in attendance along with many of Drew's close friends and some of Will's family," an eyewitness tells E! News.
"Everyone had a great afternoon out in the sun. There was tons of laughter and music coming from the house. Drew was so happy to see her friends and have one last shindig before the baby comes later this month. It was a really relaxed atmosphere and all about getting together with the people she loves. Reese was one of the first guests to arrive and one of the last to leave. She had a great afternoon celebrating Drew."
E! News exclusively broke the news that the 38-year-old star is expecting another baby girl with husband Kopelman. They are already parents to beautiful daughter Olive.
"Oh god, I mean, I just eat everything I want, which isn't healthy. I'm bigger this time than my first time. My doctor the other day was like, 'Yeah, so I think maybe pull back a little bit,'" Barrymore told Ellen DeGeneres in January.
"I thought I was doing great. I still fit into those jeans. I mean, they hurt when I wear them but I'm still in them, so yeah. But you know, listen, it takes nine months to make it, it takes nine months to unmake it. I don't ever pose like that I'm so fabulous and I lose it like that. I just want to enjoy the pasta right now…I'm in second trimester bliss!"
Speaking of pasta, Drew learned how to make her favorite dish from scratch during a culinary class in Northern California alongside her pals Diaz and Witherspoon.
"Going to culinary school in napa ! #freshpasta #learning #eating," she captioned the kitchen shot. In the photo collage, Barrymore posed with the pasta dough before it's made into shapes. Another image shows the dough laid out and cut into strips on a stone counter top before getting presented all ready to eat in a bowl.
Yum!
Us Weekly first broke the story.
—Reporting by Marc Malkin