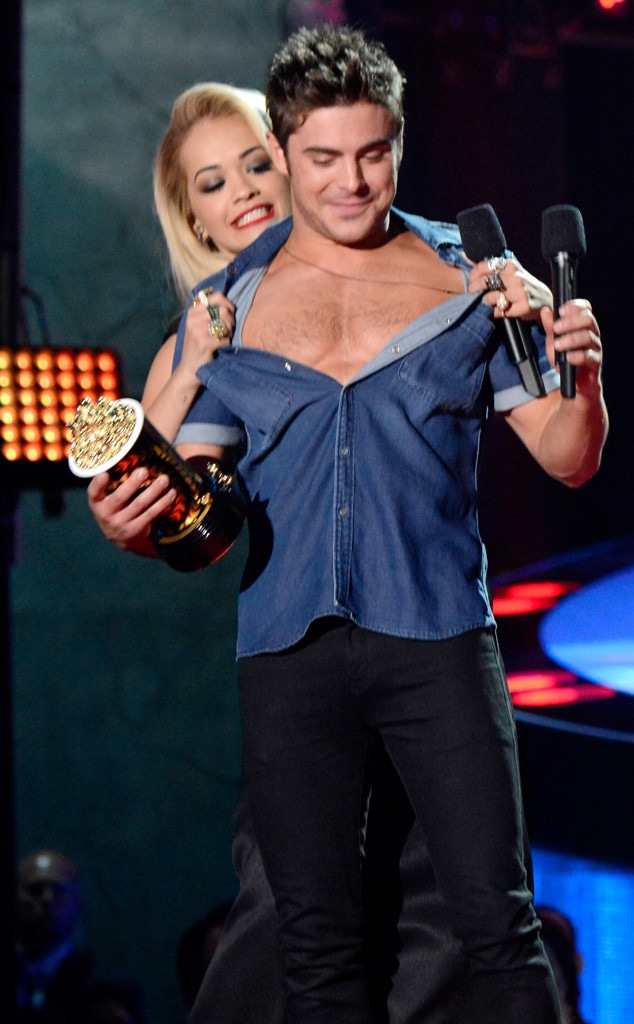 Kevin Mazur/WireImage
The Hunger Games: Catching Fire won big at the MTV Movie Awards.
The adventure flick took home Movie of the Year at the show hosted by Conan O' Brien Sunday night, with both of its stars, Jennifer Lawrence and Josh Hutcherson nabbing Best Female Performance and Best Male Performance, respectively.
Those weren't the only big winners of the night, though.
Check out the full winners list and the big moments (ahem, Rita Ora and Zac Efron) from the 2014 MTV Movie Awards!
Mila Kunis showing off her baby bump: Technically, she didn't address the bump and she was wearing a black dress, but when Kunis came up to accept the award for Best Villain you could see her growing belly…and she definitely had that mom to be glow. 
The Jared Leto-Lupita Nyong'o Award Exchange: After stepping onto the stage in a black shimmery blazer and his glossy, ombre hair coiffed to perfection, Leto accepted the award for Best On-Screen Transformation from his friend Lupita Nyong'o. And he gave her a look that felt a little too long. "Lupita…thank you," he said, staring at her. "It's an award in itself to get this from you." And after that stare, let's just say he struggled to get through the rest of his speech.
Channing Tatum winning the Trailblazer Award: Aside from the love fest going on between Jonah Hill and Channing Tatum as he presented his pal "Chan" with the award, what made this moment even more awesome was how genuinely humble Tatum was to receive it. He even joked that he thought Kunis and Hill were punking him when he heard he would be receiving it at the show.
Zac Loses His Shirt: We were expecting Efron to take off his shirt when he won the Best Shirtless Performance award. What we were not expecting was for award presenter Rita Ora to rip his shirt off his (very tan) body while he flexed away. It was awesome.
The Three-Way Kiss: Seth Rogen, Efron and Dave Franco all introduced the Best Kiss Award, with Franco giving a peck to a lady on stage, Efron basically making out with another woman on stage with them, and Rogen pretending to tongue down his mother, who hopped up on to the stage to join them. The faces in the audience for that last one were priceless.
The Performers: 21 Pilots brought out their masks—and dozens of masked people in a mosh pit—for their performance of "Car Radio." Ellie Goulding was also on hand to perform, as were Rihanna and Eminem who performed their hit "Monster."
2014 MTV Movie Awards Winners List

Movie of the Year: The Hunger Games: Catching Fire
Best Female Performance: Jennifer Lawrence, The Hunger Games: Catching Fire
Best Male Performance: Josh Hutcherson, The Hunger Games: Catching Fire
Breakthrough Performance: Will Poulter, We're the Millers
Best Kiss: Will Poulter, Jennifer Aniston and Emma Roberts, We're the Millers
Best Fight: The Hobbit: The Desolation of Smaug, Orlando Bloom and Evangeline Lilly vs. Orcs
Best Comedic Performance: Jonah Hill, The Wolf of Wall Street
Best Scared-As-S**t Performance: Brad Pitt, World War Z
Best On-Screen Duo: Vin Diesel and Paul Walker, Fast & Furious 6

Best Shirtless Performance: Zac Efron, That Awkward Moment
#WTF Moment: Leonardo DiCaprio, The Wolf of Wall Street

Best Villain: Mila Kunis, Oz the Great and Powerful
Best On-Screen Transformation: Jared Leto, Dallas Buyers Club
Best Musical Moment: Backstreet Boys, Jay Baruchel, Seth Rogen and Craig Robinson perform in Heaven, This Is the End
Best Cameo Performance: Rihanna, This Is the End

Best Hero: Henry Cavill as Clark Kent, Man of Steel

Trailblazer Award: Channing Tatum
Generation Award: Mark Wahlberg