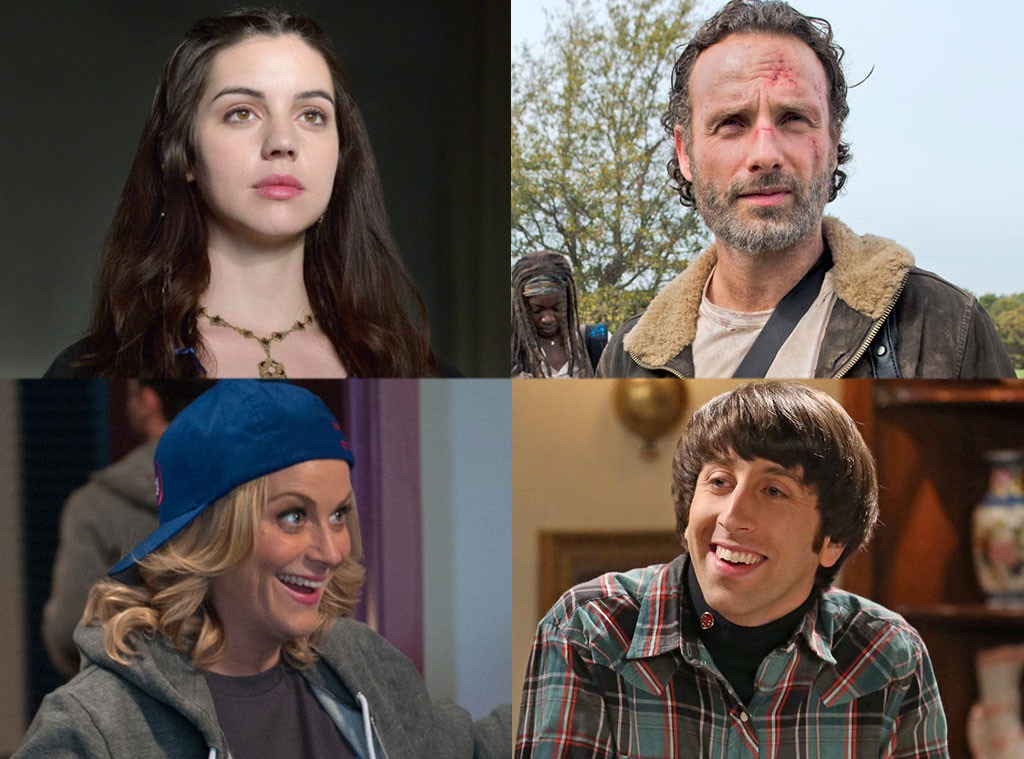 Ben Mark Holzberg/The CW; Gene Page/AMC; Colleen Hayes/NBC; Michael Yarish/Warner Bros. Entertainment Inc.
Mondays are the worst.
We know it, you know it, and even your [insert beloved pet here] knows it. However, we've got something to put a little spring in your step and a smile on your face: Spoiler Chat!
Read on for exclusive scoop on The Walking Dead to get to know a new face that will be joining our group in the season five premiere. Plus, we caught up with star Adelaide Kane from the CW's Reign, to find out what's coming up for Mary in May's final episodes. We're ready to help you start your day and get you buzzed on all the small screen excellence that is headed your way from your shows like Shameless, Orphan Black, Parks and Recreation and many more!
Shania: Obviously I was bummed to hear about Dr. Coop leaving Nurse Jackie, but will he at least be around this season?
Yes, there will be no shortage of Dr. Cooper. And we finally get to watch our good ol' Coop grow the hell up! You'll see what we mean soon enough.
Cooper: Why do you guys always leave out It's Always Sunny in Philadelphia from Spoiler Chat? You should fix that.
Ask and you shall receive! We've seen the Reynolds family tackle countless of crazy shenanigans, but we've never seen them ban together for an over-the-top game show. Get excited for Philly Feud in season 10! It's typically a wholesome and fun family game-show, but when our gang invades the studio, their vulgar answers and Frank's general creepiness ruins pretty much everything. Sounds amazing!
Melissa M.: Am I the only person who loves Howard on The Big Bang Theory?
Nope! Howard's mother loves him unconditionally, and although we've never officially meet Mrs. Wolowitz, she's always been one of our favorite characters. But guess what? All of that could change! In this season's penultimate episode, we'll be introduced to Marta, the woman in charge of tending to Mrs. Wolowitz's each and every need. We're not going to give everything away, but let's just say that by the end of the episode, you'll be writing thank you notes to Marta for what she reveals. 
Connor: I'm still in shock over that Walking Dead finale! I can't believe we have to wait 'til October to find out what's next. Got anything to hold me over?
Our gang may have been in a tight-spot when we last left them, but Rick and Co. are going to be recruiting as many people as possible in order to get revenge on those man-eating freaks who run Terminus. One of the allies we're most excited to meet is 17-year-old Burton. He may be young, but he's already suffered great tragedy when lost his leg. Luckily Burton does not let his disability keep him down, and his positivity is infectious to everyone else around him.
Riley Z.: Is it too early to get Shameless scoop?
Are you kidding? This is Spoiler Chat! We always have the scoop. One of our Gallaghers (we're not saying who!) is going to be getting close with a skilled member of a rock n roll band. Get ready because this guy is extremely talented and we'll be seeing him multiple times throughout season five. 
Scott K.: Hit me with some spoilers from Orphan Black!
Hold onto your glasses, Clone Club! We're not going to give away, when, where or why, but when our beloved BBC America series returns for season two, Cosima will be introduced to yet another familiar face when searching for answers in the DYAD Institute. We've met soccer mom Alison, and badass Britt Sarah, but what kind of person do you think that school teacher Jennifer is like? 
Talia: Reign is without a doubt, the best drama on the CW right now. Will Mary get a happy ending this season?
We agree, we're addicted to the royal new series and after chatting with its star actress, Adelaide Kane, we're waiting on pins and needles for the final few episodes. "There's blood and guts and dying and fights and everything. Our last couple of episodes have these amazing battles," the brunette beauty promised us. "There's going to be returning heroes. There's going to be be a couple of deaths, it's all going to happen. We have some really, really big stuff coming up. I guess the best I can tell you is just stay tuned." 
Olivia: I cried during last week's episode of Parks and Rec. Is Leslie still going to take that big job in Chicago?
We were bawling our Parks-loving eyes out as well! To find out what's next for Leslie, we caught up with the blonde beauty herself, Amy Poehler. And to answer a question you didn't ask—yes, she is just as wonderful in person as you could imagine. So what's coming up for Knope? "Big stuff happening. Really big. We have a huge finale, it's very exciting and it's an hour long and major things are changing," the actress teased. "Big big changes, so tell everybody to make sure you watch the last five minutes." Better set those DVR's, TV fans! 
Got a TV question? Tweet it to @kristindsantos—or send an Instagram video—with #AskKristin, and you may be part of the next Spoiler Chat or Watch With Kristin show!
SPOILER CHAT comes out every Monday, Wednesday and Friday at 9 a.m. ET/6 a.m. PT. Bookmark the link!