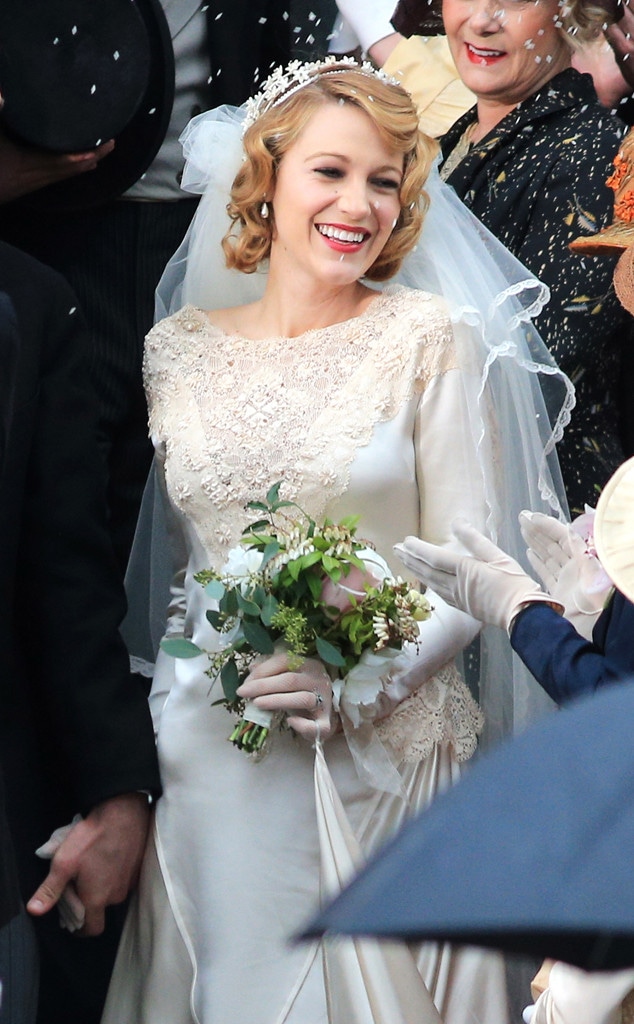 FameFlynet/AKM-GSI
While we may never see Blake Lively's wedding dress from her I-dos to hubby Ryan Reynolds, we now have an image of what the blond beauty may have looked like on her big day, and no surprise, she's absolutely stunning.
The 26-year-old star was snapped on the set of her upcoming flick The Age of Adaline on Tuesday in Vancouver, where she was photographed sporting a gorgeous white wedding gown with her hair pinned up in an Old Hollywood glamour style.
Lively was seen sharing a smooch with her onscreen hubby Peter Gray during the romantic scene, which was filmed at a local church as onlookers watched the picture-perfect pair.
Much like her other costumes, the former Gossip Girl star's dress had a vintage feel, which was complete with a lace bodice, satin skirt and long veil. She added a pair of silver shoes and red lips for a pop of color, smiling from ear to ear as she held her bouquet while filming the wedding scene.
The only thing missing from her flawless appearance? Lively's gorgeous ring from Reynolds, which, dare we say, is far more stunning than the bling she's sporting in the on-set shot.
Directed by Lee Toland Krieger, who helmed Celeste and Jesse Forever, The Age of Adaline follows "the miraculous life of the 29-year-old title character (portrayed by Lively), who stops aging after recovering from a near fatal accident. Over the 20th century she embarks on an epic but isolated worldwide journey, keeping her secret, until she meets a man who forever alters her life."
JKING/FAMEFLYNET PICTURES
The flick marks Lively's first project since Gossip Girl ended in 2012, and on Monday, Lively's hunky hubby stopped by the set for a visit.
Reynolds came by to take his ladylove to lunch (for the second time!), and a source told E! News the pair looked relaxed and happy as they strolled away for some quality time together.
The Age of Adaline, which is slated released sometime in 2015, also stars Ellen Burstyn, Michiel Huisman and Harrison Ford.