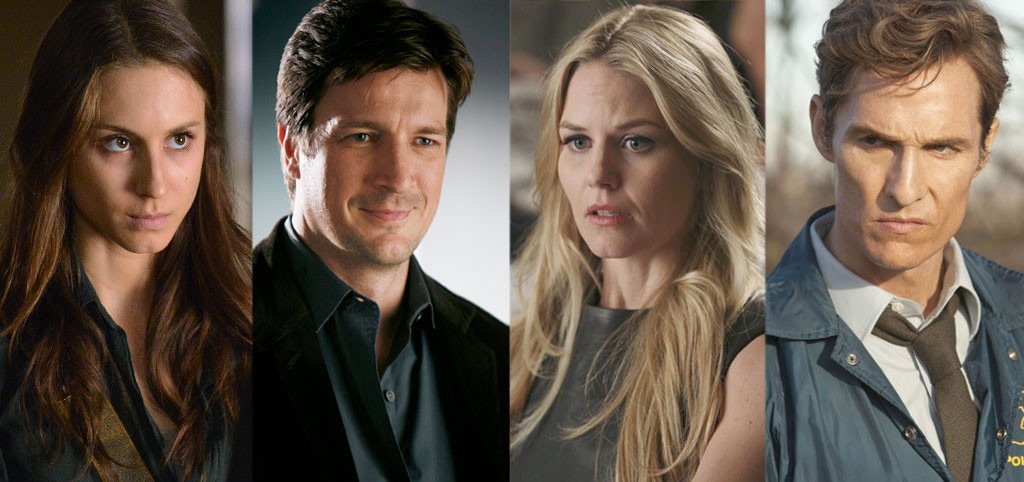 What do we want? Spoilers! When do we want 'em? Now! 
Rise and shine, TV fans—it's time to start the week with a big bowl of scoop from some of the most addictive shows on the air. Read on for exclusive secrets about Pretty Little Liars' favorite pill-popper, new details from Once Upon a Time's trip down the yellow brick road, and revelations from a heartbreaking death on Girls.
Plus, we've got oodles of information from upcoming episodes of The Mindy Project, Castle, Girl Meets World and so much more!
Sara: How about some Girls scoop?
Hannah just can't seem to catch a break! Once again the Grim Reaper will claim another life that is close to our writer's heart and she will be traveling back home in this all-Hannah centric episode. The good news? We'll be meeting four new members of the Horvath family and they are just as intense as Hannah.
Sasha: Life without The Mindy Project is like hell. Give me spoilers before I burst into flames!
Okay, okay! Calm yourself, little one. In an upcoming episode called, "An Officer And A Gynecologist" Mindy is getting a new roommate! Jenny is a 19-year-old patient of Mindy's who is ready to step things up with her sex life and embrace her inner wild child. But when Mindy prescribes birth control pills, Jenna's police officer father is furious and kicks his daughter out of the house. (Pretty harsh, dad!) Now Mindy is stuck with a sexually active teenager as a roomie, and let's just say that her sleepover are not the G-rated kind…
Jonathan Z.: I need some Castle spoilers to get me through the week!
We're beyond excited for episode 20! Why, you ask? Pull out your bell-bottoms and brush the dust off of your favorite Ashton Kutcherposter because this episode is called, "That 70s Show." In the upcoming hour, Castle and Co. will be mingling with Harold Metzger, a man who was once second in command to 70s crime boss Vince Lamotta. But unlike most mobsters, Harold is likeable, funny, and unbelievably charming. Hold onto your gal, Castle!
ABC FAMILY/Eric McCandless
Riley: I need some Pretty Little Liars scoop! What's up with Spencer? She's totally losing it!
Brace yourself because Spencer's erratic behavior is only going to get worse and worse. FYI, this is not the first time that little miss Hastings has gone off the deep end. Executive producer Oliver Goldstick explains that when it comes to the summer that Alison disappeared, Spencer's mind was not in the healthiest state.  "With Spencer, there are big gaping holes in her memory which will serve as incredibly difficult realizations about what she may have done. There are revelations and realizations that she maybe had confrontations or ugly encounters that she may have blotted out and can't remember," he revealed. "But there are people that are going to remind her, you better believe it! Somebody was taking notes that summer."
Makayla: I'm counting down the days until Girl Meets World finally premieres! Got anything to hold me over?
One of our all-time Boy Meets World characters would definitely have to be Minkus, the obnoxiously smart, goody-two-shoes who always craved to be the best in every class. (And if we're being totally honest, despite his arrogance, Mikus was actually very sweet and kind.) Now it looks like Cory's daughter, Riley, will have to deal with a few Minkuses of her very own in class. These kids will be short, geeky, and up to no good at one of the coolest parties of the year.
Chad: I'm obsessed with True Detective! What's coming up in next week's episode?
Can you believe there are only two more episodes left?! We love this show so much it's hurts. This Sunday's episode, "After You're Gone," will continue to feature an unraveling Marty and his self-destructive behavior. Although we can't tell you of the Dora Lange murder will be completely solved by the episode's end, we can tell you that you definitely don't want to miss the final four minutes of the hours. You may or may not have a full-on heart attack. (You totally will!)
Michelle: Hey, do you guys have anything for Once Upon a Time?
Two words: Flying. Monkeys. The winter premiere of the magical ABC drama is packed with jaw-dropping moments and heart-warming scenes—especially for all you CaptainSwan shippers out there! We're serious, after watching this hour, even the strongest Neal fan will begin to doubt their feelings and wonder if they're rooting for the right couple. 
Laurel: Twisted is so good this season! What's coming up?
A lot of inner turmoil for Danny, that's what. No only is a blast from the past trying to wreck havoc on Danny's world, he's also going to trying to come to terms with the fact that he killed his father. "I think that's going to be his main internal battle for some time," Twisted star Avan Jogia spilled to us. "I think it's something you don't recover from ever, and but he learns how to deal with it. It's another thing he can't be truthful about." But it was totally self-defense! "if you think it's self-defense or not, there's also other factors that come up in the season that make everyone question whether that's the case or not." Yikes.