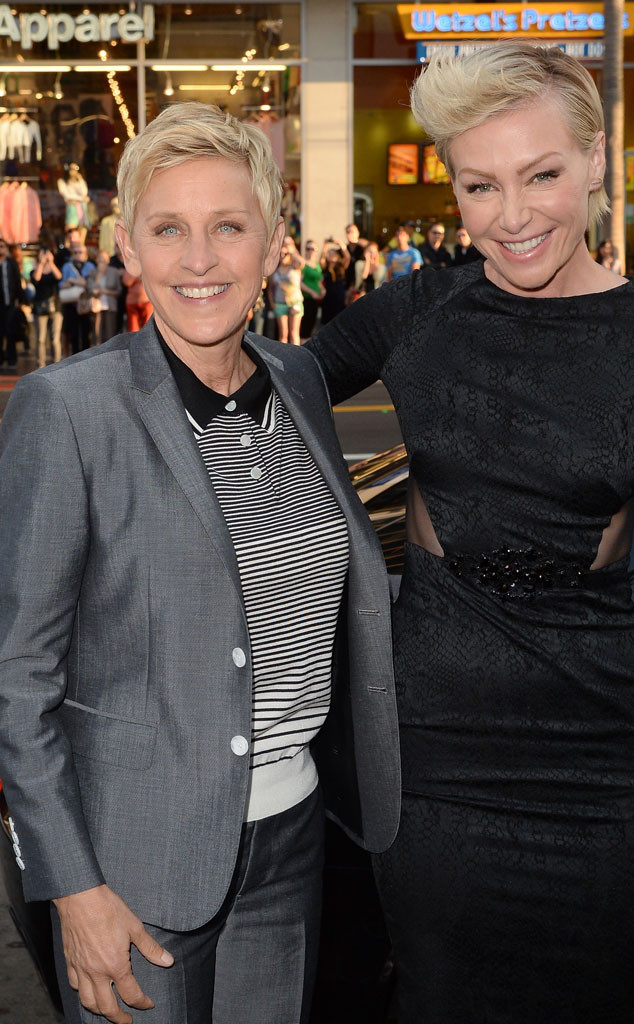 Jason Merritt/Getty Images
Contrary to rampant tabloid reports, Ellen DeGeneres and Portia de Rossi are not headed towards a $220 million divorce. "I love her so much it kills me," the TV host says of her wife of nearly six years.
Married since August 2008, DeGeneres, 56, and de Rossi, 41, have recently been subjected to split rumors. "The tabloids had a photo of Portia not wearing her wedding ring. She goes, 'I didn't wear it because when I ride horses and I'm holding the reins, it gives me a blister!'" DeGeneres tells People in its March 3 cover story.
"The truth is, and this is corny, I fall more in love with Portia all the time. I really do. She surprises me all the time," she continues. "It's what anyone experiences when you find that person that gets you, wants to take care of you, wants the best for you. We're really lucky because we know how rare it is."
DeGeneres doesn't often address rumors about her personal life, but she did use humor to diffuse the tension during a December 2013 episode of her eponymous talk show. "The other day I'm at the hair salon getting these extensions," the Academy Awards host joked. "And there's tabloids all over the hair salon—that's where they are, I guess. All of a sudden I notice one sitting on the counter in front of me [and] it caught my eye because Portia and I were in the top right-hand corner and I thought, 'Oh, that's sweet, they're honoring us.' And then I read the headline underneath and it said 'Ellen and Portia's Marriage Crumbles.' I was like, 'Oh, what happened? They seemed so happy."
"So I get the magazine and I'm flipping through it and there's one page torn out," DeGeneres continued. "The only page torn out was my story...I will never know what's tearing my marriage apart."
Jokes aside, she told the audience, "There's not one ounce of truth to any of it. I am very happily married. The only thing we ever argue about is who loves who more, it really is true." The Finding Dory voice actress then promised fans, "If there's anything you need to know, I will announce it here first."