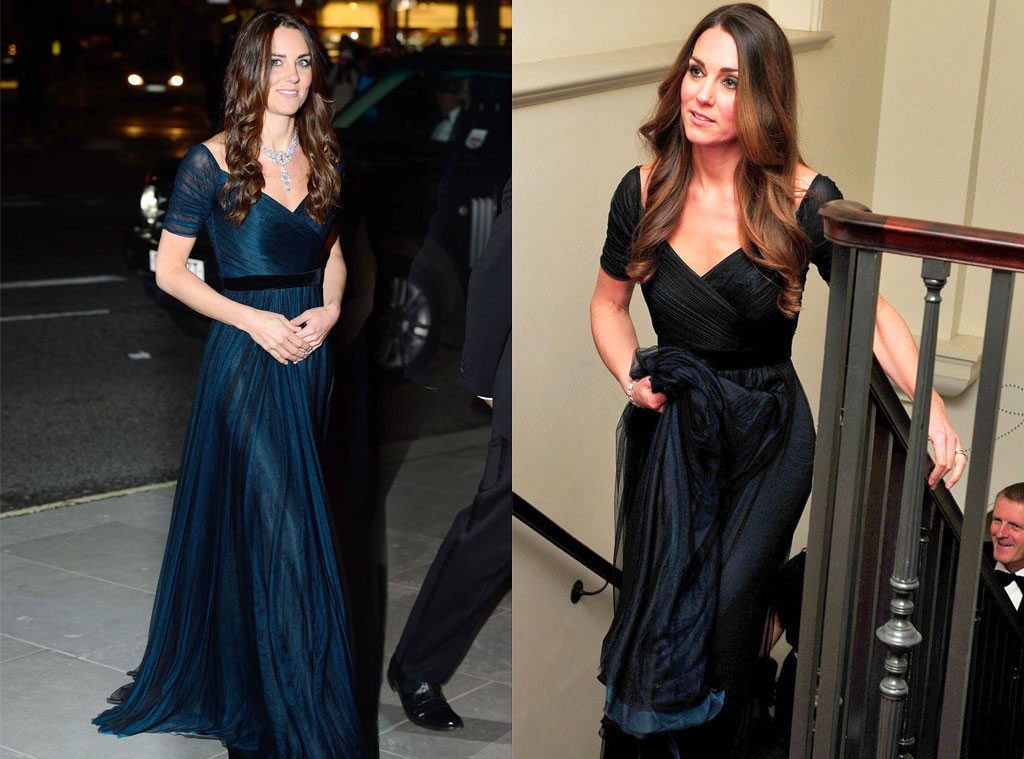 James Whatling / Splash News, AP Photo/ Ian West, Pool
What's Kate Middleton's style philosophy? Repeating outfits. So what do you think the Duchess of Cambridge wore to tonight's fundraiser at the Portrait Gallery in London? If you guessed...a gown you've already seen—give yourself a gold star!
Yes, the duchess did as she tends to do and recycled a Jenny Packham gown she previously donned three months prior. Back in October, Prince George's mom debuted the off-the-shoulder navy blue, tulle dress with velvet belt while attending the 100 Women in Hedge Funds benefit.
James Whatling / Splash News
This time, however, she decided to add some dazzle to the look. She topped the midnight blue gown with a diamond statement necklace on loan from the queen herself. The last time Middleton borrowed a gem-encrusted accessory from Queen Elizabeth II, it was a tiara, but today's piece is equally impressive, if not more so. Apparently the queen and Kate can agree on jewelry, even if they allegedly have a difference in opinion on style and skirt length. 
Prince William—who is back to being a student again at University of Cambridge—did not arrive with Kate, so it's a good guess that he probably stayed home with their 6-month-old son. Not that the royal baby hasn't been getting out of the house quite a bit lately. Recently the duchess took Prince George on his first trip outside of the U.K. while joined her family on a holiday in Mustique.
So what's up next for the busy mom? Kate will be spending Valentine's Day opening the ICAP Art Room at Northolt High School in Ealing London.