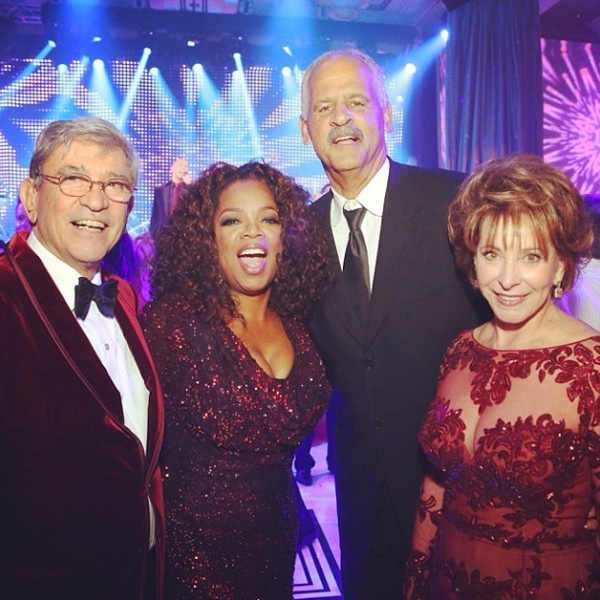 instagram
What a weekend!
Oprah Winfrey modified her original birthday plans in favor of a joint "blowout" celebration with neighbor Bob Veloz on Friday and Saturday, E! News has exclusively learned. Throughout the past year, the birthday buddies planned to host a three-day event at Winfrey's Montecito estate to celebrate her 60th and his 80th birthdays. After the guest list expanded to 450 friends and family members, however, they decided to downsize it to 250 and move the venue to the Bacara Resort in Goleta, Calif.
Winfrey has since confirmed the plans were changed. "Oprah considers this 'the party is off' line a fib, not a lie," a source explains. "If her big celeb pals were on the guest list, like John Travolta or the Obamas, she'd have unwanted media around as well and helicopters circling above, and it wasn't worth it."
Veloz, who sold his home to Winfrey for $50 million in 2001, was happy to co-host a smaller affair. The media icon, meanwhile, looked dazzling wearing the same crimson Badgley Mischka gown she originally modeled on the back cover of O, The Oprah Magazine's 10th anniversary issue in 2010.
A few famous guests, including Carol Burnett and Rob Lowe, arrived at 6:30 p.m. and were escorted to the Grand Ballroom inside the Bacara.
Winfrey's event planner pal Colin Cowie oversaw every detail as the ballroom was decorated in shades of red. Female guests were asked to wear formal gowns in the fiery shade. In addition to serving a five-course dinner and having an open bar, a live band played until midnight.
"These are her neighbors and good friends," the insider tells E! News of the OWN creator, "not Hollywood types she bumps into at the Golden Globes. She really shunned them from her party."
During the party, Winfrey posed for a picture with Veloz, an aeronautical equipment mogul. "Can you believe he's 80??" she asked.
The next day at noon, Winfrey and Veloz hosted a "gospel brunch" at the Bacara Resort. A 40-person choir serenaded and entertained the 100 special guests, including personal trainer Bob Greene and local philanthropist Lady Riddley-Tree, plus Winfrey's partner Stedman Graham and BFF Gayle King. Though Winfrey doesn't typically like surprises, she became animated when two of her friends took the stage.
"I never expected my friends BeBe Winans and Rob Lowe singing together," she marveled.
At 3:15 p.m., Winfrey was seen getting into her Cadillac Escalade with Graham and King in tow. "Oprah didn't want the hassles of the paparazzi, the media in general or having to hire extra security for her higher profile pals, and she got her wish," a source says of her low-key affair. "Oprah and Bob marked their milestone birthdays with a dignified and downscaled event, and they couldn't be happier."