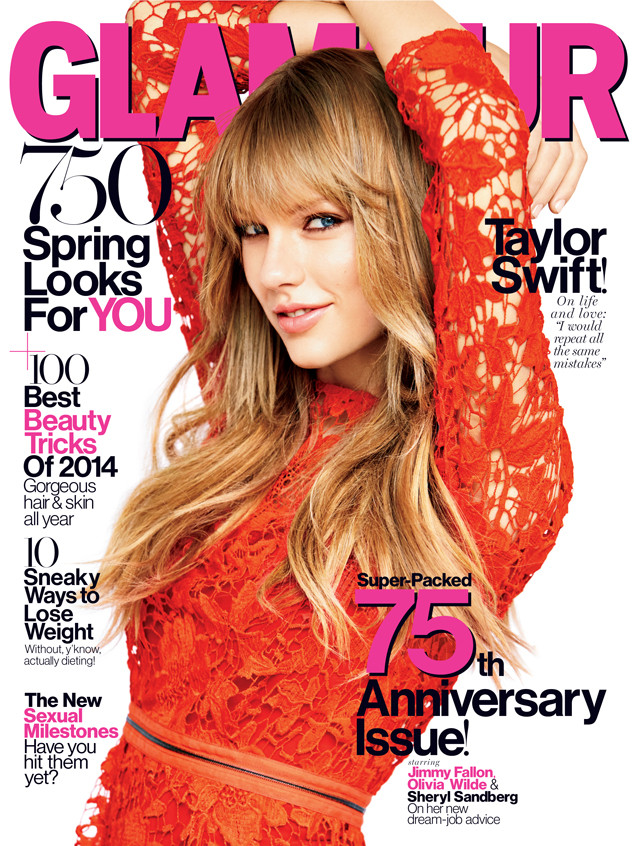 Patrick Demarchelier/Glamour
Taylor Swift isn't afraid to get real.
A fact which the 24-year-old country crooner has proven true time and time again in her telling song lyrics that spill the stories of her deepest secrets, from her biggest heartbreaks (hi, Harry Styles) to her hopes for the future.
And the seven-time Grammy winner opens up even more in the March 2014 issue of Glamour magazine, looking stunning on the cover in a lacy coral dress as she gives the camera a sly smirk, while dishing on her much-buzzed about dating life and being a role model in the pop music world.
First off, don't expect T.Swift to strip down at her show anytime soon like many young stars today.
"I find it relatively easy to keep my clothes on because I don't really feel like taking them off," she said. "It's not an urge I have. For me 'risky' is revealing what really happened in my life through music. Risky is writing confessional songs and telling the true story about a person with enough details so everyone knows who that person is. That's putting myself out there, maybe even more than taking my shirt off."