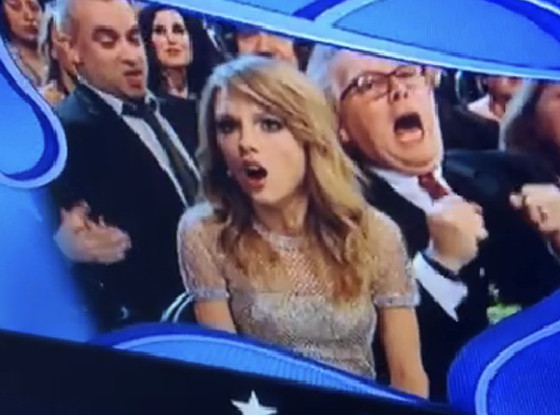 Oh, Taylor Swift. We're sorry, girl.
Unfortunately, tonight wasn't the best night for the country crooner. Swift gave a fierce performance to her song "All Too Well" at the 2014 Grammy Awards (her neck must be hurting from all of that hair-whipping), but she also walked away empty-handed.
However, the most heartbreaking moment of the show was near the end of the telecast, when Taylor thought she won Album of the Year, but she didn't (and the recording of her facial expression will forever live on the Internet). Womp, womp.
Here's what went down...
As the cameras focused on nominees Sara Bareilles, Daft Punk, Kendrick Lamar, Macklemore & Ryan Lewis and Swift for the night's biggest accolade, viewers witnessed the blond beauty react to hearing what initially sounded like Red, her album, but was actually Daft Punk's Random Access Memories.
Darn, those similar R-words!
Swift and her team jumped up in their seats with shocked faces, but quickly realized they were wrong in their assumptions. Like a good sport, Taylor kept a smile on her face and gave a standing ovation to Daft Punk for receiving the award.
Hey, at least Tay-Tay had a got a good dance party out of tonight!