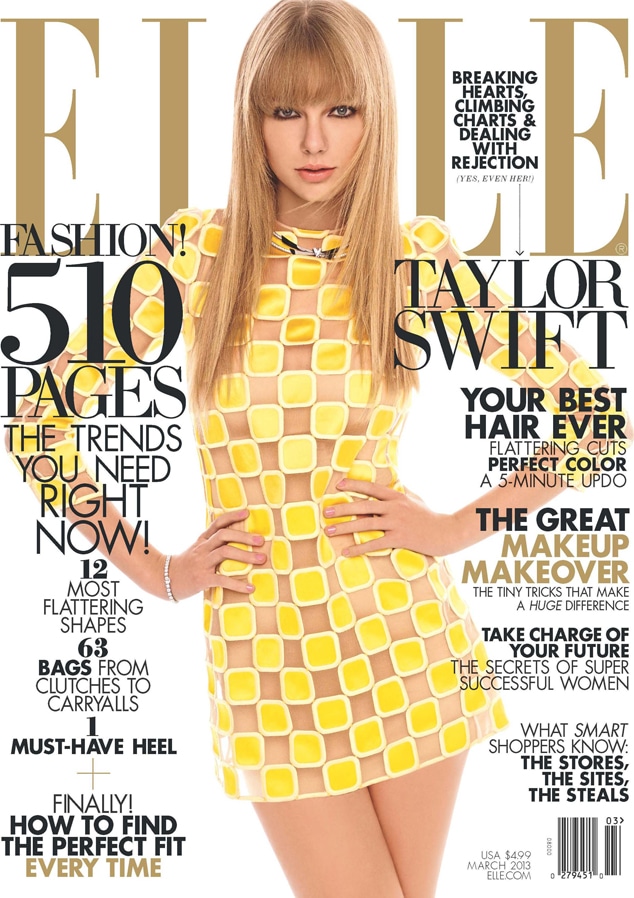 Carter Smith / ELLE
Taylor Swift is no stranger to the speculation that many of her tunes are inspired by her highly publicized splits with boyfriends.
And in the new issue of Elle, the "We Are Never Ever Getting Back Together" singer certainly seems to suggest that such a line of thinking isn't too far off the mark.
"To me it's just writing songs the way I always have. It's me sitting on my bed feeling pain I didn't understand, writing a song, and understanding it better," she tells the magazine. "If people want to dissect the lyrics, that's their right, but it's all coming from the exact same place as where I started. It's just something I do to feel better."
But when it comes to ending it with the likes of, say, Harry Styles or Conor Kennedy, the 23-year-old Grammy winner insists she's not one to get angry.
"I don't think I've ever yelled at an ex-boyfriend. Ever. I'm not a yeller. I'm not a fit thrower. If something is done, it's done," she reveals.
Oh, and contrary to popular belief, Swift assures us she is not constantly on the hunt for a new relationship.
"I'm sure if I looked up the latest Google Alerts rumor it would say I'm chasing somebody who doesn't like me as much as I like him—people love that angle on me," she says. "They're like 'Oh Taylor, coming on too strong again, chasing boys.' I never chase boys. They don't like it!"
In the meantime, we'll just have to wait and see who Swift chases hooks up with next.