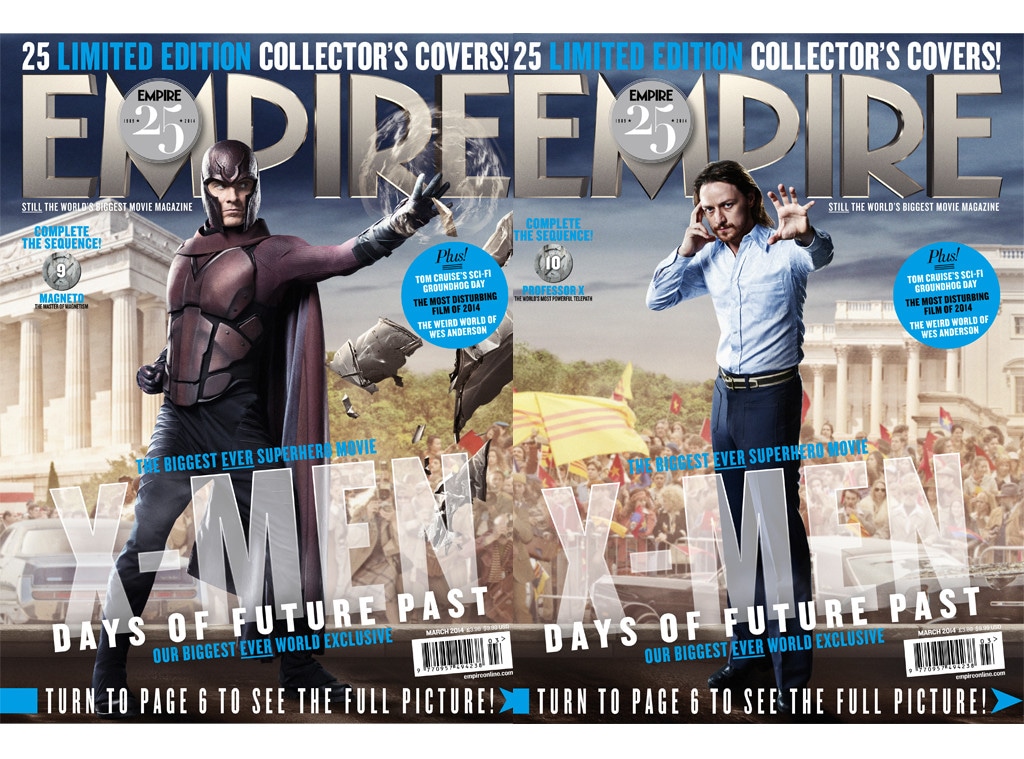 Empire Magazine
Today Empire magazine released 25 covers that feature the entire cast of X-Men: Days of Future Past, and as expected, we totally geeked out over all of them. Look! Jennifer Lawrence as Mystique! Huge Jacked Man (aka Hugh Jackman) as Wolverine! Evan Peters as Quicksliver! Ellen Page as Shadowcat! Gang's all here! But we're not here to talk about those guys.
We are today to talk about the epic bromance that's happening between the Magnetos and the Professor Xaviers. A lot of people know how much Sir Patrick Stewart and Sir Ian McKellen, who played Charles Xavier and Erik Lehnsherr in the first three X-Men movies and will reprise their roles in the upcoming film, adore each other. But you guys might not know that the two men playing Charles and Erik in the new X-Men movies, James McAvoy and Michael Fassbender, also love each other to pieces. And sure, we're very anxious for X-Men: Days of Future Past to hit our screens. But we're equally excited for the press junkets, where the love and respect these gentleman have for each other will come out in full force. We ship them. We ship them so hard.
Let's start with Ian McKellen and Patrick Stewart. First of all, they tweeted about each other's Empire covers. 
Stop. It. Their bromance is strong. It's so strong, we need another name for it other than "bromance."
Then there's this pic of them being tourists together in New York City.
Courtesy of John von Pamer
They even cook for each other! 
In fact, just look at the photos from their Twitter feeds. It's basically an ode to their friendship. When you have more photos of your best friend than of your significant other on your Twitter, that's when you know.
They are "Homies Forever!"
OK, let's move on to James McAvoy and Michael Fassbender. Let's forget for a moment the argument that X-Men: First Class is all about how Erik and Charles are basically in love with each other and concentrate on the men playing these characters.
Every single moment from every single interview with them from the First Class press tour was basically us have the privilege of witnessing their everlasting bond. We are so honored, McFassy. Oh, did we mention they have a couple name? It's McFassy. Some people prefer McBender or Fassavoy. We happen to like McFassy. Discuss.
Anyway, there are so many interviews from that press tour and they are all McFassy gold, so people did compilations of their bromantic nature. If you don't want to watch the video (you animal), just know that they make sexual jokes, giggle at each other and they never hesitate to break the touch barrier. Or you can fast forward to the end to hear James McAvoy admitting to having sex with Michael Fassbender four times. This next press tour should just be James sitting in Michael's lap for all the interviews.
So yeah, Tumblr had (and continues to have) a field day with these two. You could spend all day trolling on the McFassy tag on Tumblr to see all the ways we love them together. Here are a few of our favorites:
http://mcfassytime.tumblr.com/post/10742753889/a-heterosexual-first-class-cherik-timeline
http://iamsherloocked.tumblr.com/post/62423059587
http://lermaniclove.tumblr.com/post/60254434977/cherik
http://hepaotus.tumblr.com/post/6497917944/well-i-created-success-james-and-im-not-even
And now, Days of Future Past is joining the love between Ian and Patrick with the love between Michael and James. And it's beautiful and magical and their combined bromance will solve the world energy crisis.
Cheers to you four. Thank you for the showing us what real love is.