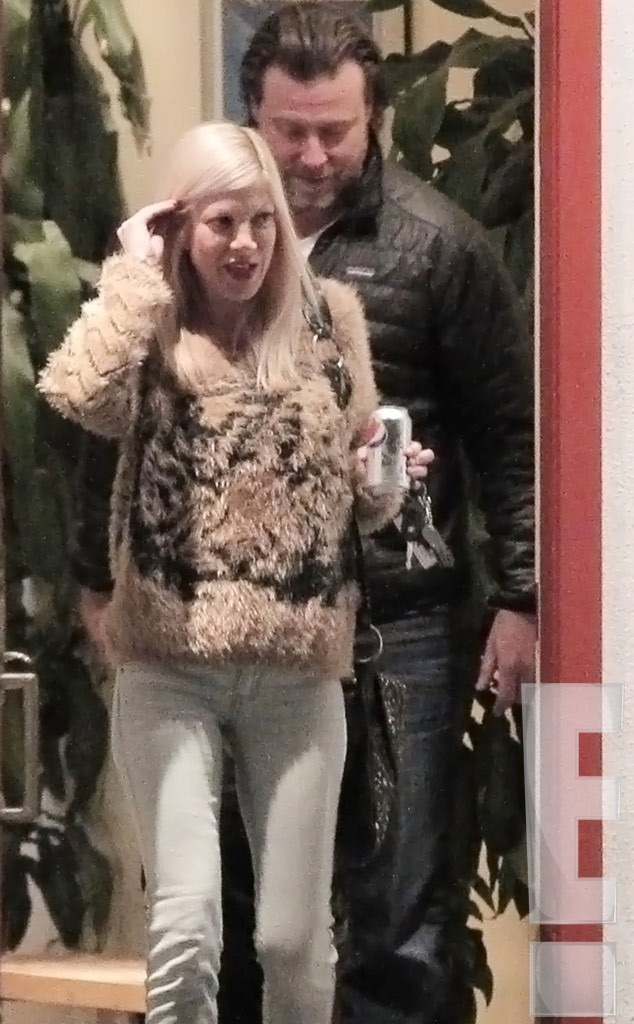 PacificCoastNews
What cheating scandal?!
Tori Spelling and Dean McDermott were spotted together in public for the first time on Thursday, Jan. 9, following a recent report which claimed that the Chopped Canada host cheated on the erstwhile Beverly Hills, 90210 actress with a woman he met in Toronto before Christmas.
The couple was all smiles as they emerged together from an L.A.-area building, putting on a united front for the photogs as the 40-year-mother of four led the way in front of her husband.
Spelling looked cute and casual in furry winter sweater and skinny jeans, adding a pair of high-heeled ankle boots while wearing her blond hair in a sleek straight style and carrying a Diet Pepsi in her left hand.
McDermott was also dressed down in a puffy winter jacket, sporting basic jeans and tennis shoes with his hair slicked back.
According to an eyewitness, the pair arrived at the building together in their Ford Flex, where they stayed for almost an hour and a half. E! News has learned that there is a couple's treatment center in the building, although it's unclear if the pair attended a counseling session. An insider most recently told E! News that the scandal is still "very raw" for Spelling.
While there didn't appear to be any outward signs of trouble between the twosome, a source recently told E! News that the duo is leading separate lives.
"They recently moved to a new house together," the source revealed earlier this week. "But since the cheating scandal, Dean hasn't been seen at the house very much. Right now he hasn't been there in several days."
However, the twosome appears to have changed their tune as of late and is seemingly working on their marriage for their four children, Liam, 6, Stella, 5, Hattie, 2 and Finn, 16 months.
In fact, a second source recently told E! News that Spelling is "focusing on her kids" while another added that she's "acting as normal as she can and sticking to the same consistent routine. She definitely doesn't want her kids to be affected by what's going on."
Prior to Spelling's public outing with her husband of six years, the blond beauty was last seen adopting an adorable black dog from an L.A.-area shelter with her four children in tow on Monday, Jan. 6. She also enjoyed dinner with her kids as well as her friend Mehran Farhat and the children's nanny on Monday, Dec. 30.
—Reporting by Michelle Falls