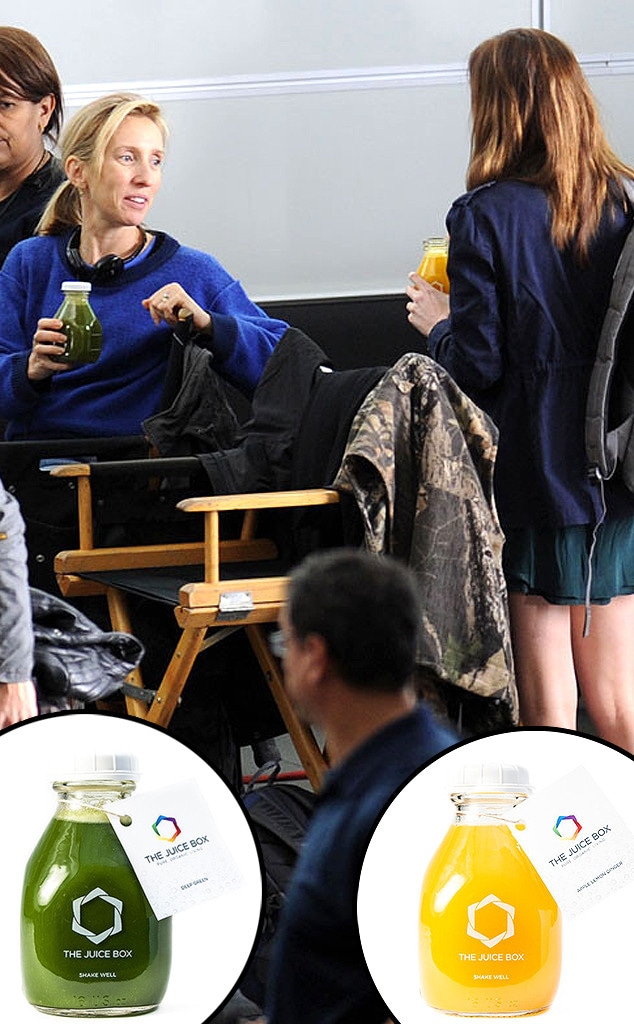 Richard Beetham/Splash News
No surprise, Dakota Johnson is working hard to stay in shape for all those sexy Fifty Shades of Grey scenes, and it seems that the 24-year-old star has adopted the latest Hollywood diet trend: juicing.
According to an insider, the blond beauty, whose hair is currently brunette while she takes on the role of Anastasia Steele, and director Sam Taylor-Johnson have been ordering juices from The Juice Box, an organic cold-pressed raw juice company based in Vancouver, where the erotic flick is currently filming.
"They order the organic cold-press juices. They love them. They have a standing order for them," the insider told E! News, adding that the pair "are not doing a cleanse and are basically drinking a couple each day."
The twosome are staying hydrated with the energizing drinks in order to keep up with the grueling filming schedule and long hours as they work hard to shoot the highly-anticipated film based on E.L. James' bestselling trilogy, which is set to hit theaters on Feb. 13, 2015.
"This will be a tough movie to film. They have locations that are spread out and they will be filming for three months, the source said. "They are sometimes starting as early as 6:30 a.m. and there are long hours. The juices help them feel great and maintain a high nutritional intake. They energize you and you don't get the same crash with sugar or coffee. It is a more sustainable energy level."
Dakota was recently spotted on set drinking the Juice Box's Tumeric Tonic, which consists of organic turmeric from either Hawaiian or Peru—depending on the season—as well as lemon, ginger and organic raw wildflower honey.
According to the company website, "Turmeric is considered to be the most potent anti-inflammatory in the food world. Highly detoxifying and offering digestive support as well as blood purifying effects, this one ingredient goes along way."
While the juices are certainly a great addition to any diet (Dakota certainly looks amazing!), the organic cold-pressed drinks, which come in fancy glass bottles, don't come cheap. You can order a subscription to the juices for $340 a month, which includes 10 juices in a variety of flavors that are delivered to your door each week.
Start juicing, Fifty Shades fans!