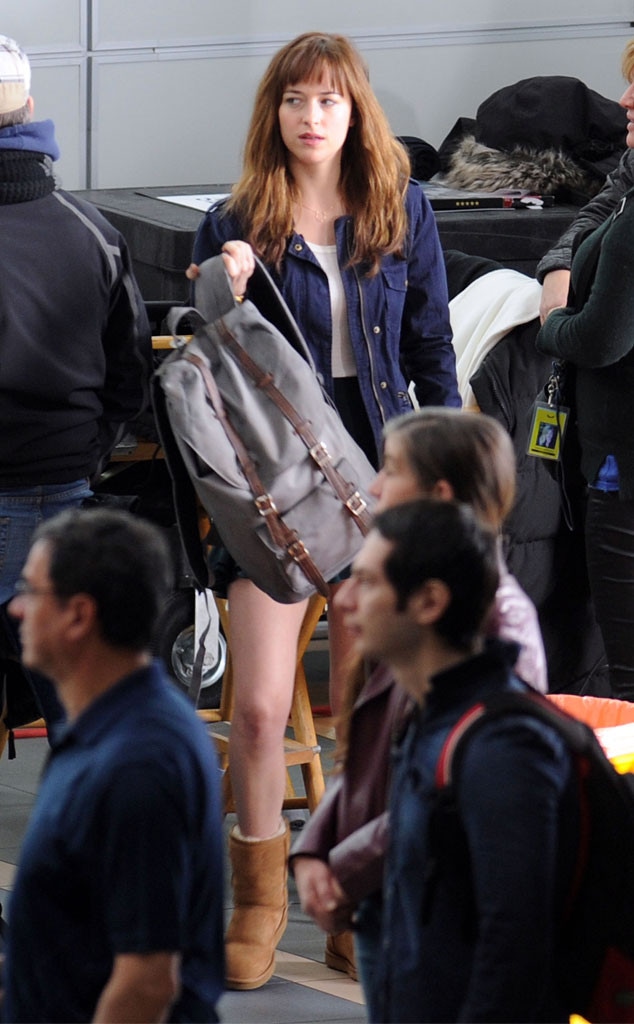 Richard Beetham / Splash News
Before Anastasia Steele was hitting the bed—among other places—with Christian Grey, she was hitting the books at Washington State University.
Fifty Shades of Grey's Dakota Johnson certainly looked like she was ready to shoot a schoolgirl scene of sorts when she was snapped on set in Vancouver Dec. 5 wearing a plain white shirt, simple navy jacket, short green skirt and Ugg boots. (Remember: It's not until later that Christian introduces his humble S&M sub to the finer and flashier things!)
Richard Beetham / Splash News
Dakota, who stars alongside Jamie Dornan in the film based on E.L. James' erotic novel, downplayed her natural brightness to portray Anastasia's plain yet quietly attractive good looks. Sometimes less is more when it comes to the makeup, ladies—she did get Christian's attention!
When Dakota isn't hard at work on the Sam Johnson-Taylor directed flick, she's spending time with her real life love, boyfriend Jordan Masterson. The pair hit the gym together Wednesday night for a workout, and Dakota was all smiles afterwards as she was snapped on the way out.
And Jordan need not be concerned about Mr. Grey—or the man who plays him—falling for his lady offscreen! Jamie is a married man himself, and his wife Amelia Warner is due to give birth any day now.
New movie? New baby? Oh my—that Jamie's going to be a bit tied down (shackled, even!) with that busy schedule!