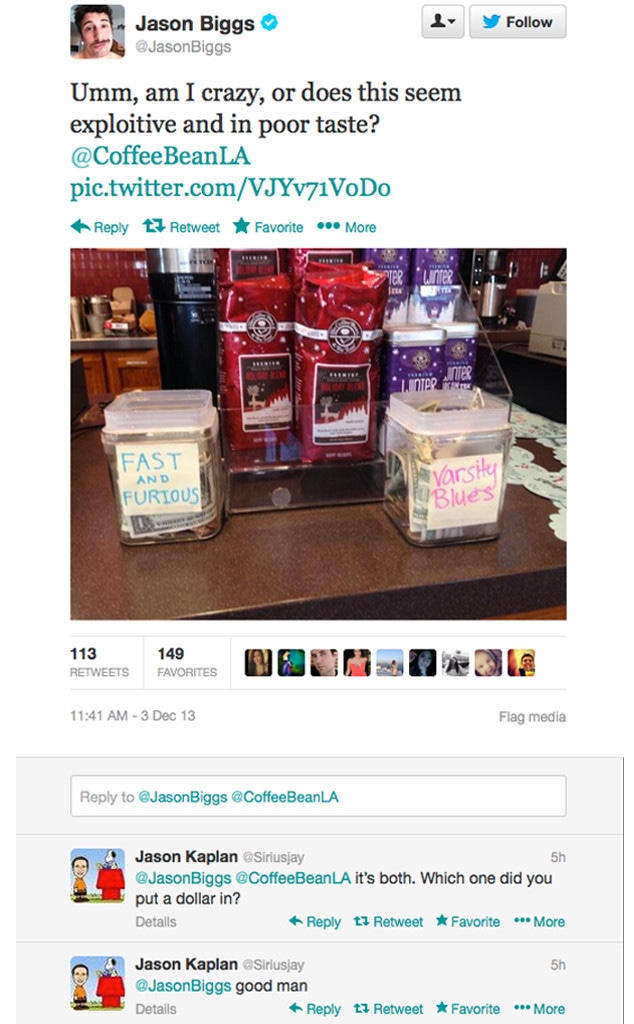 Breaking News: There are certain things Jason Biggs finds offensive, and this is one of them.
According to NBC News, a Los Angeles-based Coffee Bean and Tea Leaf shop displayed tip jars on the counter asking customers to use their cash to vote for their favorite film starring Paul Walker, the 40-year-old star who was killed in a fiery car accident on Saturday, with Fast & Furious and Varsity Blues being the two options.
This idea didn't sit well with the American Pie actor, who posted a photo of the display and tweeted, "Umm, am I crazy, or does this seem exploitive and in poor taste? @CoffeeBeanLA."
Mark Renders/Getty Images
His post surprised some fans, with one follower responding, "Wait! @JasonBiggs thinks something is in poor taste? Has hell frozen over?" The celeb wrote back, "First time for everything I suppose." But more importantly, it also caught the attention of someone in charge of the popular coffee chain.
"@JasonBiggs This is completely inconsistent w/our brand values & the jars have since been removed.Thank you 4 bringing this 2 our attention," the official Coffee Bean L.A. Twitter account wrote back.
A spokesperson for that specific store also assured NBC News that the jars have been taken off the counter, adding that they cannot release the location in question "as the matter is still under investigation."
"This is completely inconsistent with our brand values and the jars have since been removed. Our thoughts and condolences remain with the many friends and family of Paul Walker during this difficult time. The Coffee Bean & Tea Leaf® would like to thank Jason Biggs for bringing this matter to our attention," the company said in a statement to NBC4.
Autopsies on the remains of Walker and Roger Rodas, who was behind the wheel when the pair were killed in a car accident on Saturday, were performed Tuesday, the Los Angeles County Department of Coroner confirmed to E! News.
While the victims' identities are widely known, the official identification from the coroner is still pending at this time. They are relying on dental records for positive matches, as the bodies were said to be burned beyond recognition after the Porsche Carrera GT they were riding in slammed into a light post and burst into flames.
Tyrese, a friend and costar of Walker's, who shed tears while visiting the crash site on Sunday, is helping the late actor's family with funeral arrangements.
If you'd like to learn more about Walker's charity, Reach Out Worldwide, or make a donation, please visit https://www.roww.org.