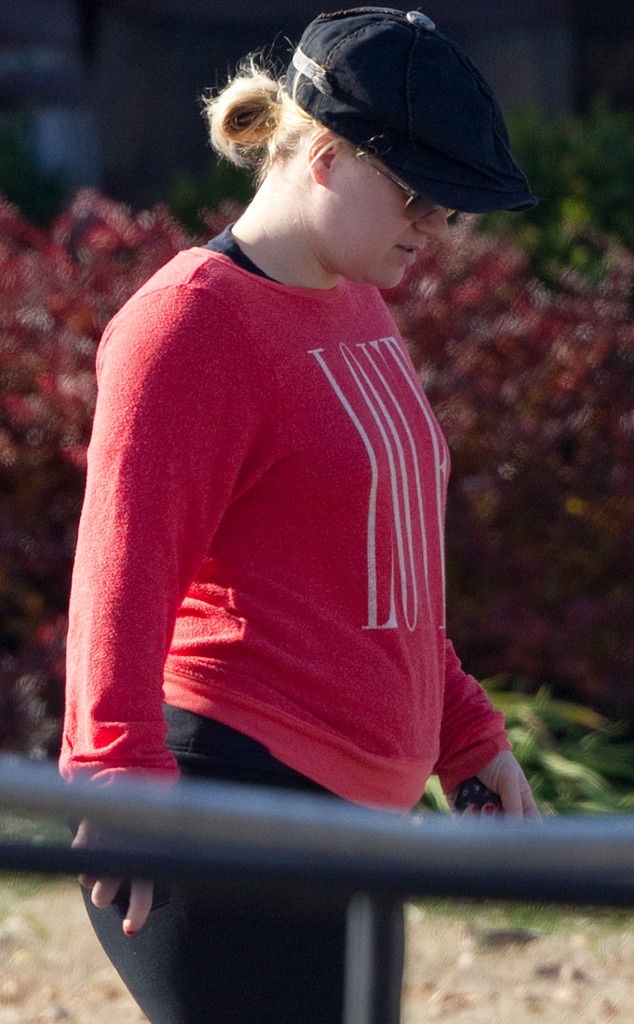 Splash News
Baby love!
Pregnant Kelly Clarkson and husband Brandon Blackstock we're spotting out and about in Nashville last week. It was the first time the pair has been snapped since announcing they are expecting their first child together.
Keeping it casual and covering her growing baby bump, the star donned a red Love sweater and black leggings. Her makeup-free face was also cloaked by a black cap and sunglasses. The duo chatted (discussing baby names, perhaps?) while leaving a local Cracker Barrel after lunch.
In case you couldn't tell by her top, the star is really feeling the love right now. After gushing on Twitter that her pregnancy was the "best early Christmas present ever!" the singer went on the Today show and told Savannah Guthrie how hard it was to wait to share her wonderful news.
"I was just dying to tell people, but we were trying to wait until the end of my first trimester...but everybody kept talking about it and I had to cancel something because I've been so ill," the 31-year-old mother-to-be explained. "I didn't want people to think that I'm canceling because I'm lazy or something. So, we just told people. But we had a really good reason."
And while she admits its far too early to know the sex of the baby, just one week before announcing her pregnancy she joked to Parade magazine that she's thinking pink.
"I'm totally gonna have a girl. I'm manifesting it! And when I have a girl, you're gonna be like, 'That chick knew it!'"