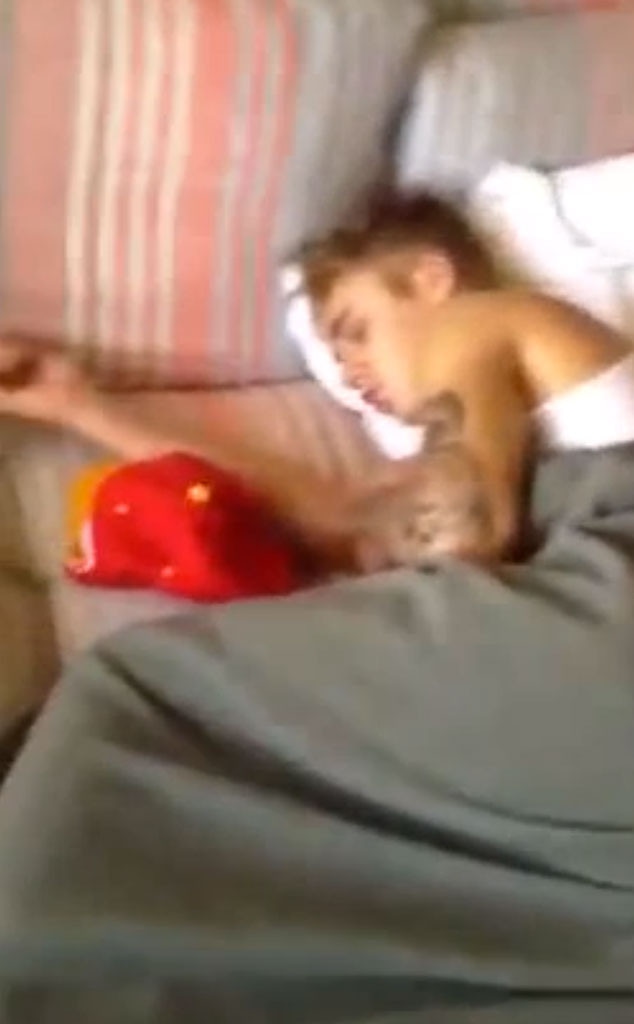 Youtube
What a nightmare. A sleeping Justin Bieber appears to have been caught on camera by a woman in Brazil. The 15-second video was uploaded to YouTube on Wednesday, Nov. 6, and in less than 12 hours it generated more than 2.7 million views.
The grainy footage shows Bieber wrapped in a gray blanket and snoozing on a bed. After filming the 19-year-old pop star napping, the brunette turned the camera on herself and blew Bieber a kiss.
The Canadian musician has yet to officially comment on the tape's existence via social media. But on Thursday, Nov. 7, Bieber uploaded an Instagram video of himself singing and captioned it, "What do tigers dream of." He was, of course, referencing the ditty Ed Helms sang in 2009's The Hangover.
Bieber's reps did not immediately respond to request for comment when contacted by E! News.
The singer has been making headlines ever since he arrived in the South American country last week. On Friday, Nov. 1, Bieber spent several hours partying in Rio de Janeiro's Centauros nightclub before he was photographed sneaking out, covered in a bed sheet. Though some media outlets called the venue a brothel, a source told E! News it's more like an "old-fashioned gentleman's club."
The next night, Bieber was pelted with a water bottle while performing in São Paulo.
During his time in Brazil, the "Bad Day" singer was also caught doing some graffiti art when he spray-painted the former Hotel Nacional in the Joá neighborhood of Rio de Janeiro. A complaint was filed on Wednesday, Nov. 6, and police opened an investigation to determine whether he broke the law.
Spray-painting on public or private property is categorized as "vandalism" in Brazil and considered a misdemeanor. Bieber's team said the singer was given permission by city hall to do graffiti on a different wall, but they felt the area was too dangerous and therefore opted to tag the hotel, assuming it was an abandoned building. If it turns out that Bieber didn't receive permission, he could be charged with vandalism and be sentenced to pay a fine or spend between three months to a year in jail.
Hours later, Bieber tagged even more walls and shared the evidence via Instagram. "Who's gon stop me haaannn," he wrote in one photo caption. Calling graffiti art his "escape," the bad boy told his fans, "Every place I have tagged has been approved I do not suggest tagging private property. I still suck but I have fun doing it."