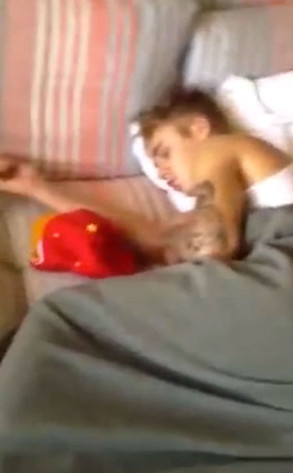 Youtube
What a nightmare. A sleeping Justin Bieber appears to have been caught on camera by a woman in Brazil. The 15-second video was uploaded to YouTube on Wednesday, Nov. 6, and in less than 12 hours it generated more than 2.7 million views.
The grainy footage shows Bieber wrapped in a gray blanket and snoozing on a bed. After filming the 19-year-old pop star napping, the brunette turned the camera on herself and blew Bieber a kiss.
The Canadian musician has yet to officially comment on the tape's existence via social media. But on Thursday, Nov. 7, Bieber uploaded an Instagram video of himself singing and captioned it, "What do tigers dream of." He was, of course, referencing the ditty Ed Helms sang in 2009's The Hangover.