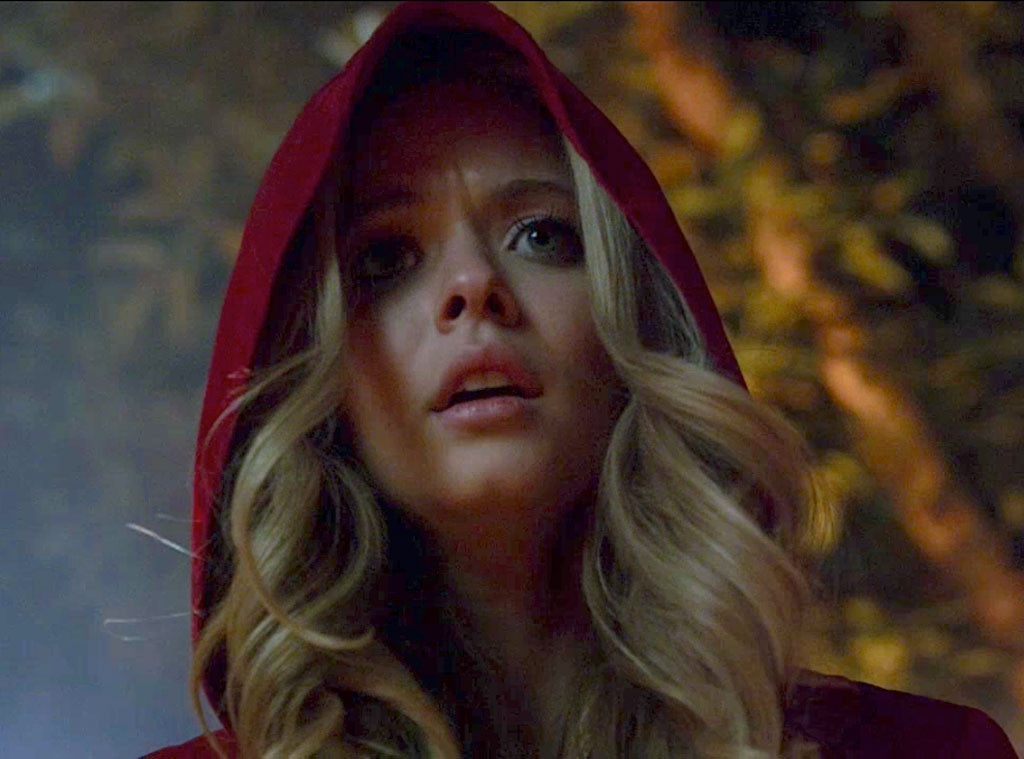 ABC Family
Put away your Ouija board and cancel that séance—our little liar is back from the dead!
Last night, fans of the hit series Pretty Little Liars were absolutely shocked to find out that Alison Dilarentis—a girl who was presumed to be dead for the past four years—has been secretly hiding out amongst the land of the living. That's right, our formerly ruthless and vindictive queen bee is actually alive. Gasp!
Now we're left wondering what's coming up next for our fierce foursome when the season returns in January. To help curb your curiosity, we had a nice long chat with executive producer Oliver Goldstick and he graciously gave us exclusive answers to your most burning PLL questions.
Finally we all know that Ali is actually alive! How long have you all been plotting to reveal that she is not actually dead?
Oliver Goldstick: For some time, actually. We basically had ideas last year about strong hints. And with our girls almost all of them have had delusional states and we always wanted to make it clear that these scenes with Ali (Sasha Pieterse) could be very real. Emily (Shay Mitchell) had that outside the barn with that asphyxiation. We had Spencer (Troian Bellisario) with the painkillers on her couch and Alison going through her bag. We had Aria (Lucy Hale) in her bedroom on cold medicine, and Hanna (Ashley Benson) in the hospital after being hit by a car.
All of them have had their encounters with Alison. We've been spreading this out, hinting to the audience and teasing was that a vision or did she really appear? What she's so good at though is knowing when they're so drugged up enough to make an appearance. [Laughs.]
Does anyone else, besides our liars, know that Alison is alive?
No. No, no no, by no means no. This is very privileged information and as we sort of hinted at last night, she isn't safe. The idea is she's sharing this with them but she's still on the run because there's still somebody after her.
Can we trust Ali?
That's a good question. Yes, because I think she has grown. You'll see in her appearances in 4B when she returns there's some remorse and some conscience that she didn't possess in the flashbacks that we've seen. There is some remorse about her behavior which led to the situation that she's in.
ABC FAMILY/Eric McCandless
How quickly will the liars catch on to Ezra's wicked ways?
There's a piece of evidence that surfaces in the season 4B opener. The girls will utilize this information for at least six or seven episodes to help them unravel the mystery of Alison's summer before she disappeared—and Mr. Fitz will figure into that as well.
Let's talk about Aria, how long can she possible stay in the dark from the knowledge that Ezra is A?
Aria may live in a country called denial. [Laughs] She's in love with this man, but after a while some things are going to break down where she has to acknowledge that something is wrong and her friends may find out things before she does. We always love the idea of sleeping with the enemy, we've done that before on the show. The idea is you're the last to find out, when it comes to the person that you're most intimate with, but she will find out. She won't be in the dark forever.
Lucy recently told us that Aria is going to go a little crazy this season. Is she going to pull a Spencer and end up in Radley?
Oh boy. [Laughs] Well, there's no shock treatments involved, there's no Vaseline on her temples and no one is having to bite down on anything. But yes, she will unravel and she will come undone, and for good reason! I think it's completely justified when she does.
ABC FAMILY/Eric McCandless
A lot of the fans are saying that Aria has never felt the full wrath of "A" because Ezra may have been playing favorites. Would you agree with that?
Oh, that's great you should say that! That's a great observation because there were two years when there were a lot of fans saying Aria was "A." They said she had not suffered as bad as the others, but of course if you look back she did suffer a great deal in the first season. The whole thing with her parents and her mother being told [about the affair], A was pretty wicked with Aria in season one. Don't worry, she'll suffer enough. In 4B, she gets her due.
Can Ezria fans still hold onto hope for this couple?
I would say to them don't abandon the show just yet, because maybe they can hold out hope. Look, Alison was certainly a despicable character who you're going to see has some real remorse and turn-around. Just wait, let's see what happens with him before one writes him off and dismisses him as pure evil.
Speaking of pure evil, we have a theory that perhaps Ezra could have an evil twin. It was difficult to tell if he was in the soldier costume when he was on the phone with Aria. Could this be a possibility or is it too off-the-wall?
This is great stuff! That's very imaginative and smart. No, that is not completely off the wall I think it's really interesting and intriguing. He was in the soldiers costume though, Ezra was there. That's a great great theory, but just remember that you have met his mother, you've met Wes, you've met the family, you've met Maggie, we have shed some light on Ezra's family. It's a good theory though, I would definitely hold onto it, there could always be some look-alike named Elliot out there. [Laughs.]
ABC FAMILY/Eric McCandless
Let's clarify the A chain of command: Is it safe to assume that Ezra is at the tippy top as the overall boss?
Yes, I'm going to say yes, it's safe to assume.
Is Ali scared of only one particular person, like Ezra, or could she be fearful of an entire group?
Oh that's a great question! That's a really great question. I feel like in her mind and because of her behavior and who she was, there must be more than one person because she has screwed over and double crossed quite a few people. So I'm sure in her darkest moments she believe that there is a group of people who might be after her.
Speaking of people that she has double crossed, last season we got a really interesting flashback with Ali and Toby and we learned more about their history. Could we possibly be seeing Toby and Ali sharing any scenes together this season?
That's a great question; you've got a lot of great questions today! No, what you just mentioned is what we're talking about for season five. Really one of the things we're excited about is the possibility of Toby and Alison in the present and what that really means, so you've hit the motherload. That's a topic that we're really excited to mine.
ABC FAMILY/Eric McCandless
Let's talk about Spencer and Toby, how will their relationship be tested this season?
It's not easy and it's not smooth sailing, that's all I can tell you. They hit a bump, and a wave. It's not a tsunami, but they are in some treacherous water because Toby is continuing to persue the mystery of his mother and that kind of hits a wall in 4B and he and Spencer may not be on the same page with the choice that he makes. And that's the real bump in their relationship.
Now that the liars know that Ali is alive, will they share this information with their significant others?
No, they can't share this. This will put all the girls in a awkward situation with their lovers because the stakes are high if they share this, so none of them are able to do that. This then puts a strain on every one of their relationships—Hanna and Caleb, Paige and Emily, Spencer and Toby, Aria and Fitz.
Don't miss the return of Pretty Little Liar's fourth season Tuesday, Jan. 7 on ABC Family!