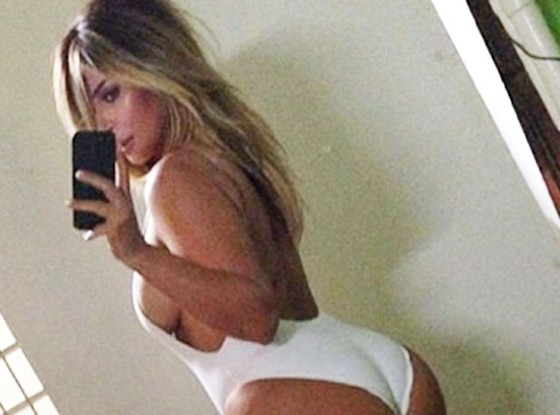 Instagram
Pilates and Atkins at work, people!
Kim Kardashian snapped this sexy photo and revealed her post-baby body on Instagram only four months after giving birth to daughter North West. Wearing a tight white swimsuit that accentuated her famous bottom and curvy figure, the Keeping Up With the Kardashians star is looking better than ever!
Kardashian isn't the only star known to take revealing pictures of herself, however; many other celebrities have posted sexy shots of themselves on their Instagram accounts.
Here's a look at the hottest celebrity photos that have hit Instagram!
Rihanna is very active on Instagram, posting around 10 (sometimes nearly 20) photos each day.
She doesn't hold back, either. In this shot, the "Pour It Up" singer showed off her svelte figure in a multi-colored sequin bra, panties, choker necklace, head wrap and face jewels. She completed the look with silver cuffs on both wrists.
Always outrageous, Nicki Minaj posted a photo of herself naked on Instagram, wearing nothing but leopard-print pasties and several gold necklaces. She captioned the photo, "Should I add #Pasties to the Spring Collection????"
When Miley Cyrus isn't twerking, she's taking selfies. Here, the "Wrecking Ball" singer took a casual and candid photo of herself, wearing a black bra and white shorts and showing off her underarm tattoo.
She has even expressed her interest in the behind-the-scenes workings of social media, visiting the Instagram, Facebook, Twitter and Vine headquarters in the Silicon Valley this past summer.
It's hard to pick just one hot Instagram photo of Kate Upton. The model, who is known for her appearances on the cover of Sports Illustrated magazine and will soon be seen in The Other Woman, poses for the camera in a white, floral-embellished bikini.
Who takes your favorite celebrity Instagram pictures?!