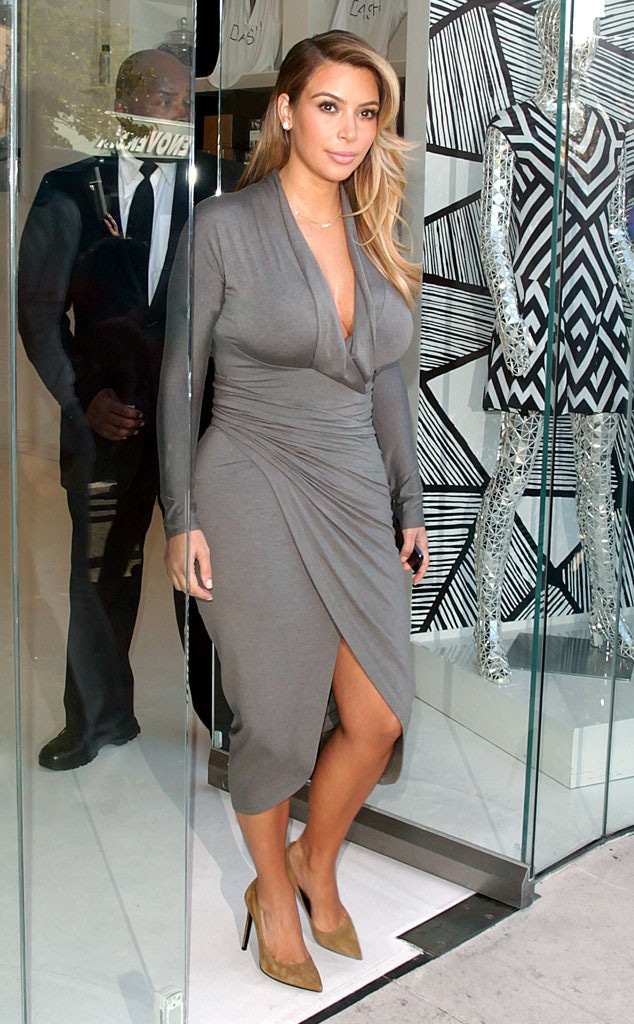 Clint Brewer / Splash News
It goes without saying that Kim Kardashian has been happily embracing life as a new mom.
Whether she's dining with Baby North, making appearances with Kanye West, showing off her beautiful blond hair color, working out at the gym or dressing her post-baby body in gorgeous designer clothes, her latest outings have attracted a lot of attention from the public eye.
And let's be honest, Kim is looking good!
So when she recently revealed on Twitter that she's currently on the Atkins diet, we had to scope out the situation for ourselves. 
The protein-rich diet, which was created by Dr. Robert Atkins, eliminates carbs but encourages dieters to not concern themselves with counting calories.
Sharon Osbourne has gone on the record saying she and Jack and Ozzy have all experienced weight loss success on the diet, and it's been linked to svelte stars like Jennifer Aniston, Demi Moore and Catherine Zeta-Jones over the years.
 We tapped nutritionist and author of The Great Cholesterol Myth, Jonny Bowden, for his expertise on the weight loss plan.
"What distinguishes the Atkins diet is the absence of a lot of carbohydrates, so that leaves out a lot of choices. You can make bad choice and good choices, but there's nothing dangerous about the Atkins diet. There really isn't a downside to it," he tells us. 
"Low-carb eating is the healthiest way to go and I completely support that, but you have to really change your relationship with food," he adds. "I haven't in 20 years of practice seen any real negative effects on someone that follows a low-carb diet regularly using good foods and a smart approach."
Bowden estimates that Kim has lost approximately 25 pounds on the Atkins diet.
Impressive! 
Would you try the Atkins diet?
To learn more about Kim Kardashian's Atkins diet, tune into E! News at 7 p.m. and 11:30 p.m.