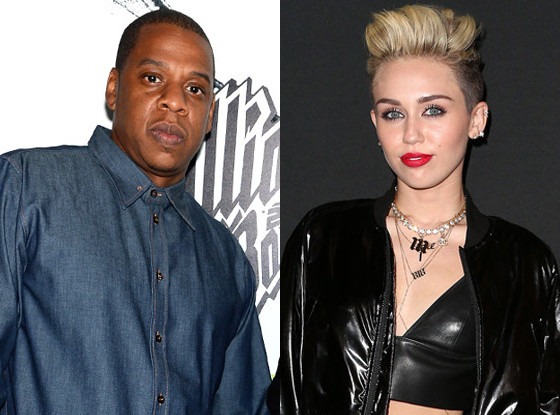 Dimitrios Kambouris/Frederick M. Brown/Getty Images
Like Nicki Minaj, it appears Jay-Z's digging whole Miley Cyrus twerking thing.
On new album, Magna Carta Holy Grail, which dropped on July 4, the rapper pokes fun at the erstwhile Hannah Montana star's newfound twerking abilities on his track, "Somewhere in America."
"When I was talking Instagram, Last thing you wanted was your picture snapped/Feds still lurking, They see I'm still putting work in/Cause somewhere in America, Miley Cyrus is still twerkin', HA!" Jay-Z rhymes. "Twerk, twerk, twerk, twerk, Twerk, Miley, Miley, twerk/Twerk, Twerk, Miley, Miley, Miley, twerk/Twerk, yeah, ugh-huh, Twerk, Miley, Miley, Miley / Only in America."
Call it a good-natured payback for the shout-out Miley gave Hova in her 2009 hit when she crooned, "Too much pressure and I'm nervous, That's when the taxi man turned on the radio/And the Jay-Z song was on/And the Jay-Z song was on/And the Jay-Z song was on."
Of course, Cyrus has been making headlines the last couple of months for twerking, starting with her unicorn onesie video, followed by her music video for "We Can't Stop" and several live performances.
Meanwhile, Jay-Z's 12th studio effort is garnering mixed reactions from music critics for its emphasis on family, political and spiritual themes.
Here's a quick roundup of some of MCHG's more noteworthy reviews:
• "As an event, it's good, it's great, it's disappointing and back again. As an album, though, it tends to be safe," writes Billboard before going on to compare it to Kanye West's new release Yeezus. "Jay's trying to be a lot of things to all people, as one does when as big as he is. And while it's unfair to measure Jay against others, we're living in a world where Yeezus has risen, and it feels like Jay's dipping a toe rather than fully diving in. When Kanye is heaving bombs from across the court, you can't clap so loud when Jay lobs lay-ups. That's not to say it's not good—it is—sometimes you just want to see some sweat."
• "Jay-Z may have retired umpteen times already, but here he whips up a helluva argument for his return: "I'm still putting work in / 'Cause somewhere in America, Miley Cyrus is still twerkin'. In the same way, Magna Carta Holy Grail makes its own case. It's cinematic and grand like a Gatsby reboot, and calm and cool like Kanye could never be, but it's also critical and contemplative. Oh, and confident," raves Spin.
• "Magna Carta Holy Grail certainly is shimmering, heavy and at times sonically stunning, and Jay-Z can toss a brilliant metaphor like it's nothing. But a true masterpiece harnesses intellect and adventure to push forward not only musically but also thematically," counters the Los Angeles Times on the other hand.
• "It all sounds great, but subsequent listens uncover thoughtful commentary and societal observation, lending to the album's replay value," praises MTV, adding, "If Magna Carta proves anything it's that no matter how futuristic your music distribution methods becomes, banging beats and choice rhymes will always remain timeless."
• "What's disappointing then, especially given the unprecedented nature of its release, is that it doesn't require closer listens or rewinds. In his attempts to spell out everything (see 'I had luggage, meaning I had baggage,' in 'Heaven,' for instance) he fails to meet the standards he set long ago: 'You draw? Better be Picasso,'" laments a disappointed Idolator.
• "It seems geared to buttress Jay's boast in the bonus track 'Open Letter' that he's 'the Bob Dylan of rap.' That may sound like a stretch—especially since not all the music on Magna Carta has the freshness of its verse. But the fact that Jay has allowed more vulnerability and rumination to balance out his continuing wit and fun means he may be well on his way to becoming his genre's answer to the great bard," opines the New York Daily News.