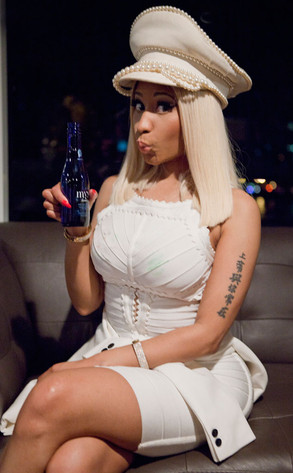 Jennifer Cooper, E!
Nicki Minaj is giving Miley Cyrus major props.
E! News caught up with the hip-hopster at a super-swanky Myx & Mingle July 4th cruise around New York Harbor while launching her new fruit-infused beverage, Myx Fusions Moscato, which she co-owns with Love & Hip-Hop creator Mona Scott-Young and Myx CEO, Peter Reaske, that's now in stores.
And when we asked her about the former Hannah Montana star's recent comments that Minaj is one of her biggest influences, Minaj couldn't resist gushing about her young admirer.
"OMG! Miley is sooooo cute and every time I see her I say again and again that she is so damn cute and down to earth. I really love her," the Pink Friday rapper told us exclusively. "What a compliment that was to me. I really love her back. Thanks Miley!"