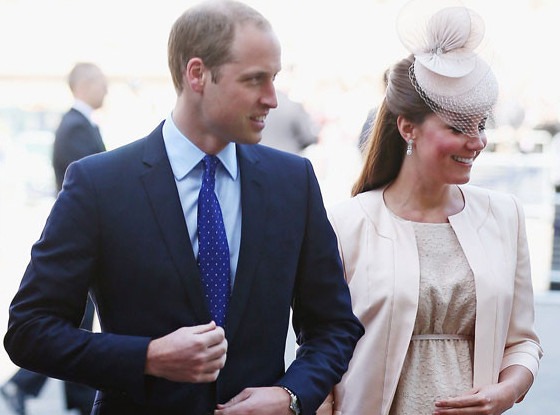 Dan Kitwood/Getty Images
Kate Middleton may not be having a splashy baby shower, but that doesn't mean the gifts for her first child aren't rolling in.
Not wanting Kate and Prince William to go without, the Finnish government sent the couple a Finnish baby box, a cardboard box full of goodies that, when empty, doubles as a sleeping vessel. The care package, doled out to all expectant mothers in Finland, has been widely credited with reducing infant mortality rates and has become a hot item for families-in-the-know all over the world.
Whether or not the child who's third in line to the British throne ever actually spends a night in the box, mum and dad have graciously accepted the gift. 
"We were delighted to receive the very kind gift of the maternity package from the Finnish government. It was a very thoughtful gesture and we're very grateful for it," a Kensington Palace spokesman told the BBC. "I'm sure the duke and duchess will be very interested to see the contents."
And what is in a Finnish baby box? Let's just say, moms in Finland get hooked up. 
The functioning crib contains a mattress, mattress cover, undersheet, sleeping bag, duvet cover and blanket; a range of clothing, from a snowsuit, hat and mittens to light rompers and leggings in unisex colors and patterns; grooming items including a hooded towel, nail scissors, a toothbrush, a bath thermometer, diaper cream and a washcloth; cloth diapers and muslin squares; a picture book and a teething toy; bra pads and, er...
Condoms. (And, apparently, a thinly veiled public-health message from the Finnish government.)
"Kela [the Finnish social security office] wanted to congratulate the Duke and Duchess of Cambridge," said spokeswoman Heidi Liesivesi. "The maternity package gained such a positive response from all around the world. The timing was perfect that the royal couple are having a baby."
Fun fact: They switched to disposable diapers in 1969, but it later become more fashionable from an environmental standpoint to revert to cloth nappies.
Andrew Robinson/Rex/Rex USA
So, Kate and Will are stocked up in that department. And while the palace was accepting the package on their behalf, grandfather-to-be Prince Charles and his wife, Camilla, Duchess of Cornwall, were off in Wales picking up more swag for the en-route heir.
While touring the 12,500-acre Rhug Estate, which has a 2,500-acre farm that's one the leading organic food producers in the United Kingdom, organic baby food company Plum presented Camilla with a crate full of baby food.
"We were absolutely delighted that Rhug has chosen to present the Prince of Wales and the Duchess of Cornwall with some Plum baby food in which the main ingredients came from the Rhug Estate," a Plum spokesman said, per the Daily Mail.
It's possible, however, that the food could end up in other hungry babies' mouths, the palace having a policy of only accepting gifts from individuals and foreign governments and not from commercial enterprises.
Meanwhile, though the royal baby won't be eating solid food for a while regardless of the brand, he or she could be nursing away any day now! 
The reported due date for Kate and Will's little prince or princess is July 13-14, but there's been speculation that the child could pop out as early as 10 days beforehand. (As in, like, tomorrow.)
Photographers are already starting to line up outside St. Mary's Hospital in London's Paddington neighborhood. Kate will have a suite in the exclusive Lindo Wing, where Princess Diana gave birth to William in 1982 and Prince Harry in 1984.