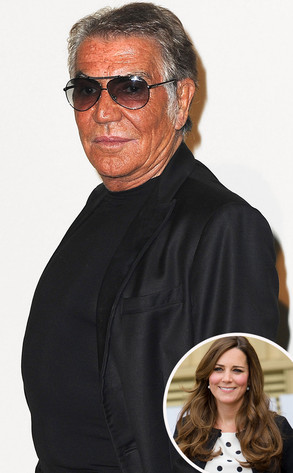 LEON NEAL/AFP/Getty Image; Jacopo Raule/Getty Images
Move over, Karl Lagerfeld!
Looks like Roberto Cavalli is gunning for the Chanel creative director's reputation as the most outspoken man in fashion.
Fresh off the heels of Lagerfeld making headlines—again!—for criticizing Adele's figure, Cavalli is weighing in on Kate Middleton's style.
"A princess should be sexy," the Italian fashion designer told Vogue UK when discussing the duchess' style. "She is young, she is beautiful–I would like to create something special for her, but nothing too bold. I would like to prove to the world that Roberto Cavalli can dress a princess. Maybe I would use a print, keeping it young, sophisticated and sexy. Just because you are a queen or princess it doesn't mean you can't be sexy."