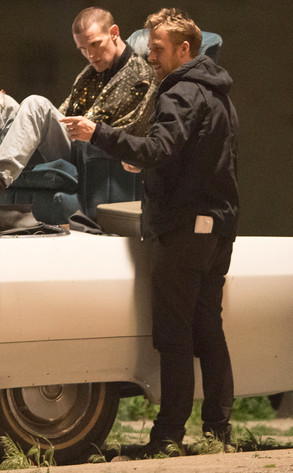 Sacco/FAMEFLYNET PICTURES
Not quite sure what's going on here, but who needs a reason to look at Ryan Gosling?
On Thursday in Detroit, the 32-year-old hunk was snapped on the set of How to Catch a Monster alongside Doctor Who's Matt Smith. The fantasy noir, written by Gosling, will also be his directorial debut.
So just how exactly did Mr. Gosling cast the Doctor? "I was in New York and I was about to fly back, and then I got a phone call saying Ryan wanted to meet me and come over," the 30-year-old Brit told TotalFilm earlier this year. "So I read his film, and I thought it was brilliant."