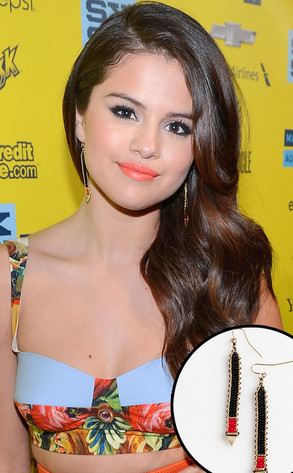 Michael Buckner/Getty Images for SXSW; Courtesy: iwonaludygadesign.com
Since Selena Gomez parted ways from ex Justin Bieber, the brunette beauty is seemingly more in touch with her fashionable side. From her stunning Harper Bazaar's cover to her sexy retro glam photoshoot, the star has inspired us with her recent flawless head-to-toe looks.
That was certainly the case when the sassy Spring Breakers star hit the SXSW premiere of her film in Dolce & Gabbana's flirty cropped bustier and brilliant tangerine pencil skirt. And while many would have dialed down the punchy separates, we loved the fact that Gomez upped her red carpet look's colorful ante with Iwona Ludyga's Tribe Long Beaded Earrings.