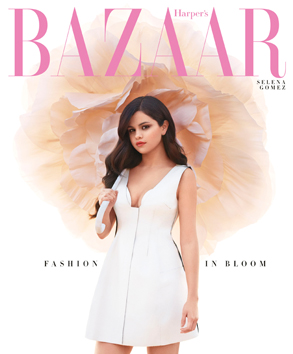 Terry Richardson for Harper's BAZAAR
Selena Gomez is quite the petal pusher there.
The starlet graces the latest issue of Harper's Bazaar, and proving that you can never max out on too much of a good thing, the 20-year-old glams up two different cover looks for the mag.
In one shot, the "Who Says" singer looks ethereal in a white Calvin Klein dress while toting a bloom-festooned umbrella. And in a sartorial 180-degree spin, she also works an eye-catching orange-and-white-striped top by Dolce & Gabbana.