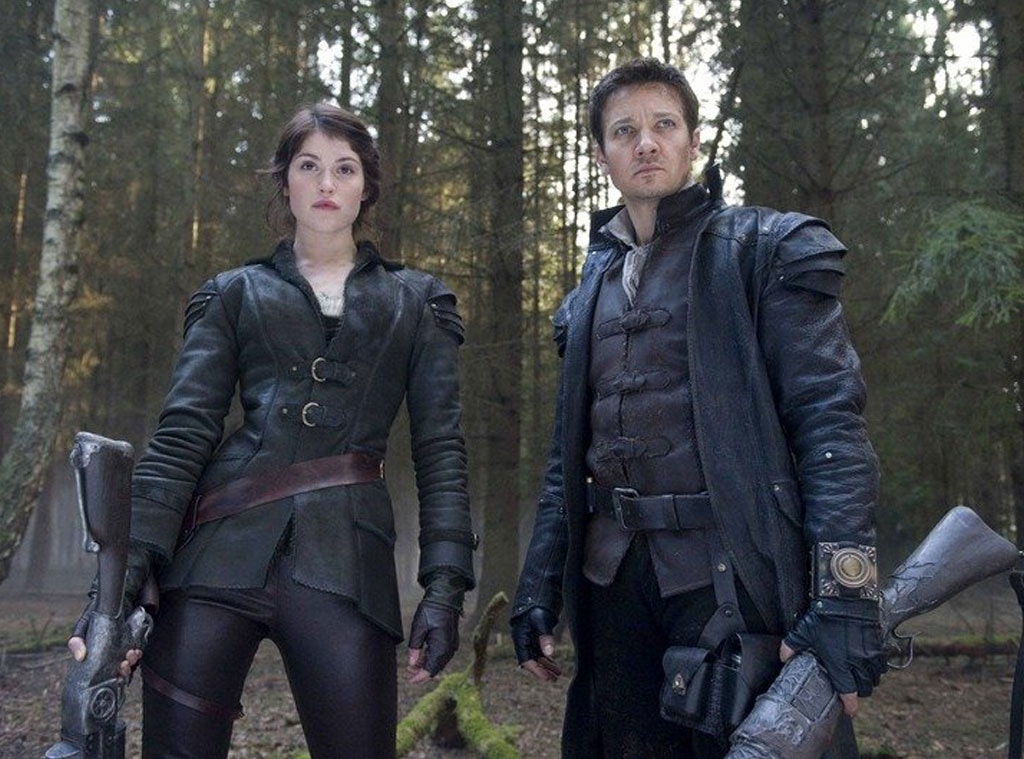 Paramount Pictures
Thanks to Glee, we've got a thing for mash-ups: the blending of two things that shouldn't go together. Last year, Fox released Abraham Lincoln: Vampire Hunter. The title was awesome, but the movie didn't exactly slay audiences.
Can Hansel & Gretel: Witch Hunters, starring Jeremy Renner and Gemma Arterton, blend fairy tales, over-the-top action and punch lines into a treat as tasty as a gingerbread house? Successful film hybrids are extremely rare, especially when mixing special effects with comedy. The gold standard: Ghostbusters.
After a quick intro with the young siblings stumbling on into that candy house—barely escaping with their lives—they grow up into butt-kicking witch terminators. Years later, they come to the rescue of a small town plagued by witches hell bent on securing invincibility by kidnapping kids. Here's what you need to know about the latest genre mash-up hitting theaters this weekend:
David Appleby/Paramount Pictures
1. Witches Are the New It Monsters: Bloodsucking vamps are out. In are crazy, spell-casting, cauldron-brewing, broomstick-riding baddies. Famke Janssen (Taken 2) is barely recognizable with cracked skin, but the former X-Woman is having a ball vamping it up as the ultimate Queen Witch. Let's not forget, however, that despite Hansel's claim, not all witches are evil. Check out stunner Mina (Pihla Viitala).
David Appleby/Paramount Pictures
2. Can This Finally Make Gemma Arterton a Star?: She's been a princess (Prince of Persia) and a Bond Girl (Quantum of Solace), but the British actress has yet to break out. As Gretel, she sometimes needs saving, but often she handles her own arsenal of weapons quite well. Her best accessory: an old timey homemade defibrillator used on a troll named Edward.
David Appleby/Paramount Pictures
3. Fairy Tale Mixed With Comedy Rarely Works: We love The Princess Bride, but Your Highness? Not so much. Produced by Will Ferrell and Adam McKay, H&G has plenty of gags. Some stick: Renner and Arterton's constantly swearing. And some are a bit forced: milk bottles with drawings of missing kids on them.
David Appleby/Paramount Pictures
4. This R-Rating Includes F-Bombs, Exploding Heads and Skinny Dipping: The aforementioned Edward has a knack for stomping on the heads of villagers. And Hansel strips down to take a swim with a witch who's also in the buff. Perhaps we were just not used to seeing R-ratings lately. Too many horror films are PG-13. Director Tommy Wirkola revels in the mayhem. So do we.
David Appleby/Paramount Pictures
5. H&G Is Short and Sweet: After too many three-hour pics hitting theaters, a 90-minute romp with non-stop action about the brother and sister duo who prefer to off witches the old-fashioned way (fire!) is a welcome treat. More of that please.
What did you think? Do these flicks ever really work? Hit the comments and let us know!