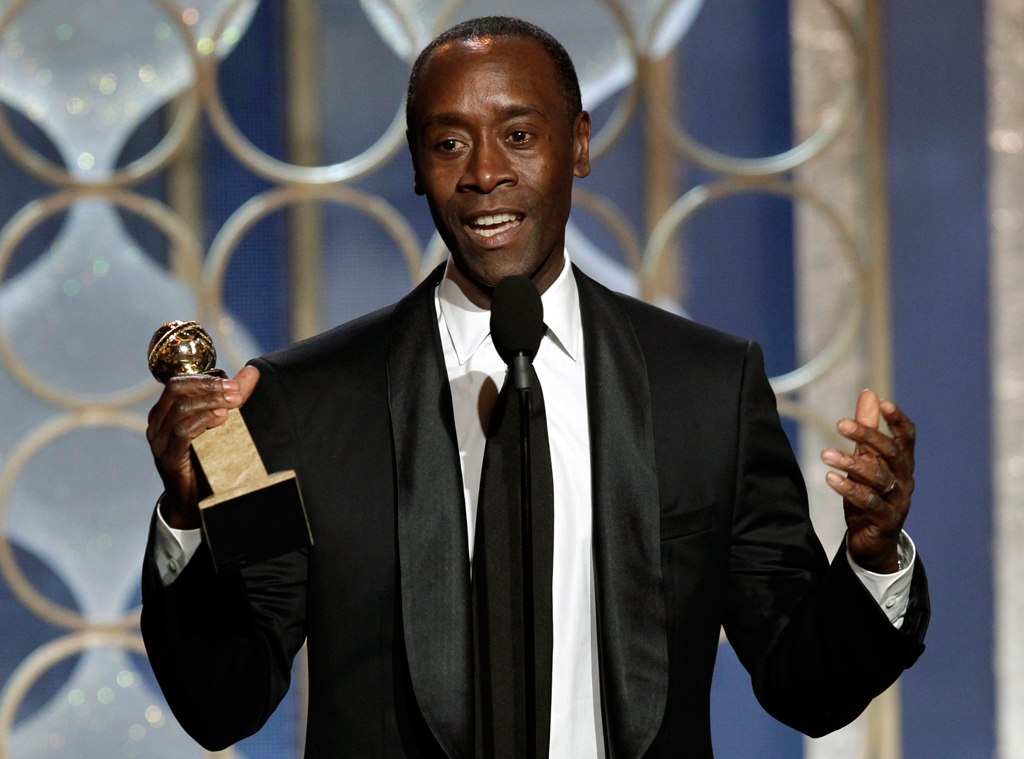 Paul Drinkwater/NBC
The day before Don Cheadle took the stage at the Golden Globes to accept the award for Best Actor in a Comedy Series, he was sitting down with us to plot out his Globes attack plan. Hint: It involved mockery.
"I was planning to do things that will probably get me never invited back again," the House of Lies star revealed. "I'm trying to really never be invited again. But I also don't want it to negatively affect the show, so…I wasn't going to get drunk, I was just going to heckle everybody."
No heckling needed, since Tina Fey and Amy Poehler took care of that last night. And because Cheadle nabbed the Golden Globe after just one season of the Showtime series, we bet he'll have no problem getting back into the party in the years ahead.
This past weekend, the Showtime president announced at the 2013 Winter Press Tour that Matt Damon was coming on to House of Lies in season two to guest star as himself. When we brought it up to Cheadle, who starred with Damon in the Oceans flicks, he was less than enthused about his friend appearing on the show
"He's a dude," he said dismissively. "He was in Bourne Redundancy, I think. He doesn't belong on the show, that's for damn sure.
He was kidding, of course. And speaking of action movies, Iron Man 3, starring Robert Downey Jr. and Cheadle, is coming out this summer, as you might have heard. And based just on the trailer, it looks like the tone will be much darker than the previous films.
"The tone is there's more of an existential journey that Tony's on trying to come to grips with this thing that he created that is creating him, too. Who's really in control? And the toll that it takes on his relationships. And then a lot of s--t blows up."
Well said, sir. To hear more from Mr. Cheadle, including what he really thinks of working with Robert Downey Jr., check out our exclusive interview below!
Related:
Don Cheadle Slams Matt Damon